Skansen - Farm House#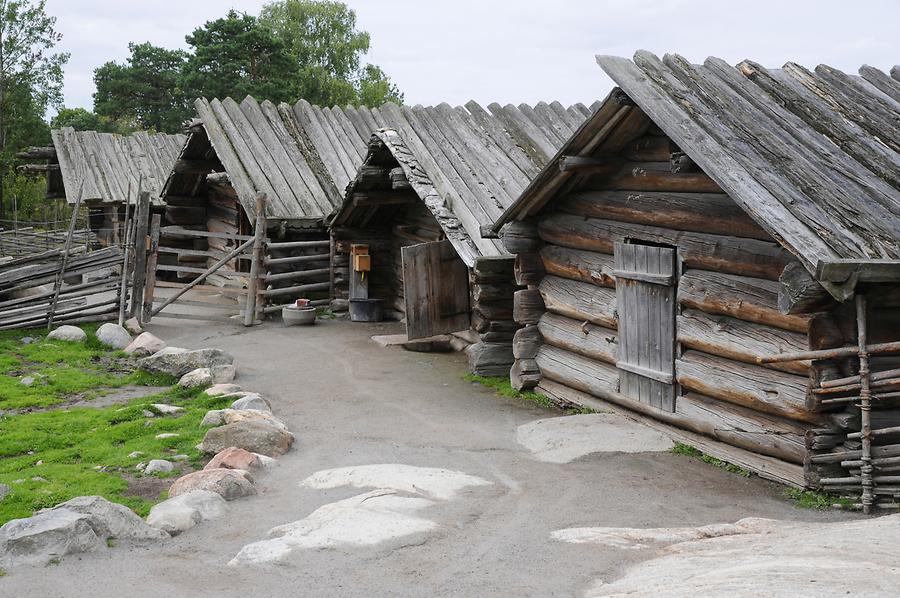 Medieval farmers in Sweden lived almost entirely self-sufficient. Most of them were subjugated to a lord of the manor, whom they had to deliver prestation. They lived as extended families with farmhands and maids on their farmsteads. A work day stretched from sun rise to sun down always being exposed to the inclemency of the weather. Their life expectancy was only 30 to 40 years and only three to four children out of ten survived infancy. Mostly the farmers ate vegetarian and had meat only for special occasions and in autumn. That was the time, when more animals were slaughtered, so that they didn't have to be fed all winter. Preferred beverages were water, whey and self-brewed beer.
Die mittelalterlichen Bauern Schwedens waren fast ausschließlich Selbstversorger. Meist unterstanden sie einem Grundherren, dem sie Abgaben zu leisten hatten. Auf ihrem Gehöft lebten sie als Großfamilie mit Mägden und Knechten zusammen. Ihr Arbeitstag reichte von Sonnenauf- bis -untergang, ständig den Unbilden des Wetters ausgeliefert. Ihre Lebenserwartung lag bei 30-40 Jahren. Nur 3 bis 4 von 10 Säuglingen überlebten das Kleinkindalter. Meist ernährten sich die Bauern vegetarisch. Fleisch gab es nur zu besonderen Anlässen oder im Herbst. Dann wurden nämlich vermehrt Tiere geschlachtet, um sie nicht über den Winter bringen zu müssen. Getrunken hat man bevorzugt Wasser, Molke und selbst gebrautes Bier.