Headquarters of the United Nations - Assembly Hall#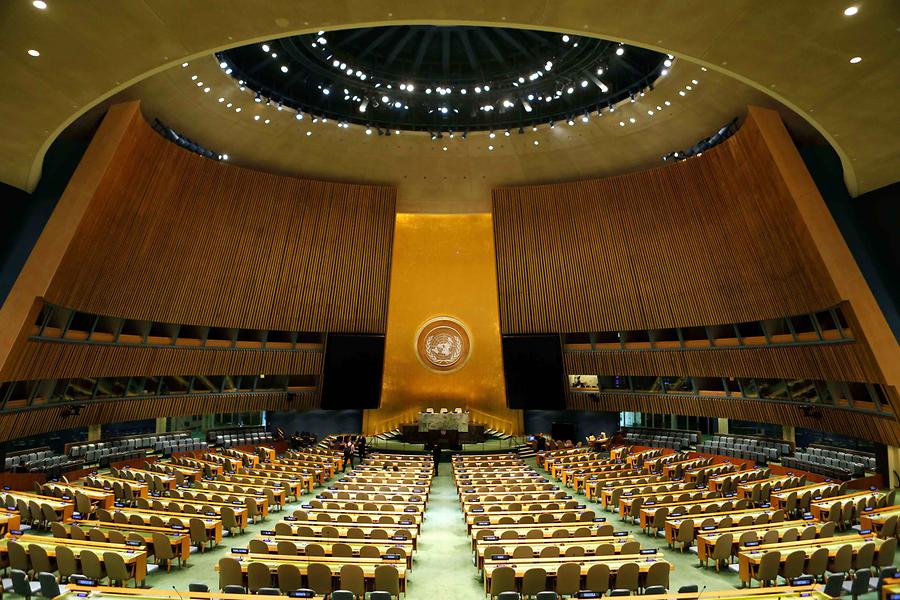 Die General Assembly Hall hat eine Sitzkapazität von 1800. Hier treffen sich alljährlich im September die Vertreter von 193 Nationen zur Vollversammlung. Jedes Land hat das Recht, fünf Abgeordnete zu entsenden. Sie billigen den UN Haushaltsplan und verabschieden Resolutionen, die jedoch, im Gegensatz zu den Resolutionen des UN-Sicherheitsrates, nicht völkerrechtlich bindend sind. Es ist ein Treffen der nahezu gesamten Weltgemeinschaft. Nur wenige eingeschränkt anerkannte Länder wie Taiwan, der Vatikan, Palästina und Nordzypern sind nicht Mitglieder der Vereinten Nationen. Wer an der Sinnhaftigkeit der UNO zweifelt, sollte sich stets ein Zitat von Winston Churchill vor Augen halten: 'Die UNO wurde nicht gegründet, um uns den Himmel zu bringen, sondern um uns vor der Hölle zu bewahren'.
The General Assembly Hall has a seat capacity of 1800. Every year in September, the representatives of 193 nations meet here for the General Assembly. Every country has the right to send five representatives. They approve the UN budget and pass resolutions which, unlike the UN Security Council resolutions, are not binding under international law. It is a meeting of almost the entire international community. Only a limited number of recognized countries such as Taiwan, the Vatican, Palestine and Northern Cyprus are not members of the United Nations. Anyone who doubts the usefulness of the UNO should always keep in mind a quote from Winston Churchill: 'The UN was not founded to bring us heaven, but to save us from hell'.