The Queen of Sheba and Solomon#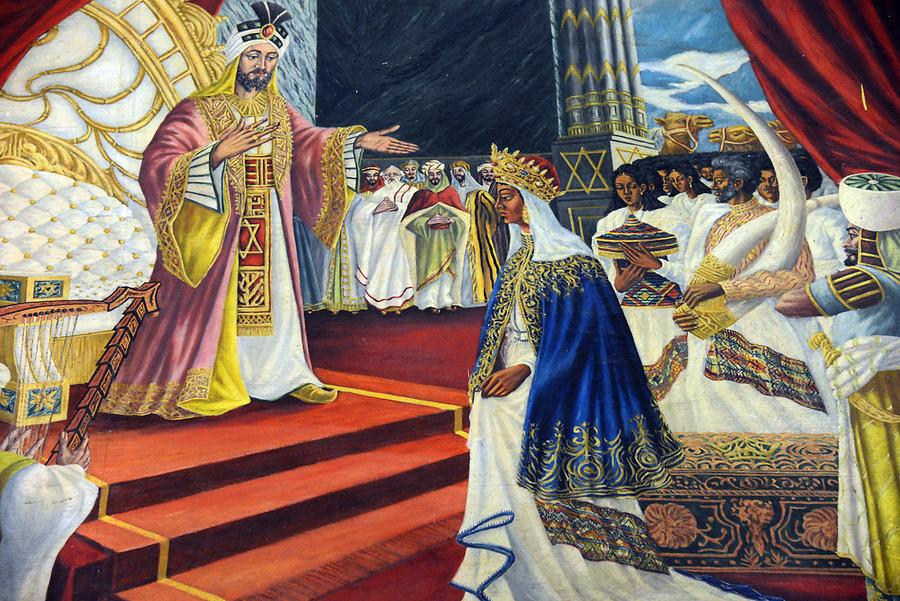 One day, Makeda heard of the wisdom of King Solomon and set out to visit him. Impressed by her extraordinary attractiveness, Solomon wanted to seduce her, but Makeda refused. So, he also employed a ruse: Shortly before her departure, he organized a great banquet with spicy dishes, but without offering any drinks. He had vowed never to make advances to the beautiful Makeda by force, but on one condition: the Queen for her part had to swear not to touch any of the things that belonged to him. When she awoke in the night, thirsty after her spicy food, she found a vessel of water beside her bed from which she drank. So she had broken her oath and had to share her bed with Solomon. After her return she gave birth to a son, Menelik I. The entire Ethiopian imperial dynasty derives from him, which ended only with the disempowerment of Haile Selassie 2000 years later. Unfortunately, the beautiful legend can not be proved historically, since the real Queen of Sheba lived in Yemen about 1000 years before Makeda was born, which, however, does not bother the Ethiopians any further. For them, Makeda is and has always been their Queen of Sheba and mother of Menelik I, the founder of the Aksumite Empire.
Eines Tages hörte Makeda von der Weisheit Salomons und macht sich auf, ihn zu besuchen. Von ihrer außerordentlichen Anziehungskraft beeindruckt, wollte Salomo sie verführen, aber Makeda weigerte sich. Da ergriff er ebenfalls eine List: Kurz vor ihrer Abreise veranstaltete Salomo ein großes Gastmahl mit scharf gewürzten Speisen, ohne Getränke anzubieten. Er hatte nämlich geschworen, sich der schönen Makeda niemals mit Gewalt zu nähern, allerdings unter einer Bedingung: Die Königin mußte ihrerseits schwören, keines von den Dingen, die Salomo gehörten, anzurühren. Als sie nun in der Nacht, von den scharf gewürzten Speisen durstig geworden, aufwachte, fand sie neben ihrem Lager ein Gefäß mit Wasser vor, aus dem sie trank. So hatte sie ihren Schwur gebrochen und mußte nun das Lager mit Salomo teilen. Nach ihrer Rückreise gebar sie einen Sohn, Menelik den I. Von ihm leitet sich die gesamte äthiopische Kaiserdynastie ab, die erst mit der Entmachtung Haile Selassies 2000 Jahre später zu Ende ging. Leider läßt sich die schöne Legende historisch nicht untermauern, denn die wirkliche Königin von Saba lebte im Jemen rund 1000 Jahre vor der Geburt Makedas, was jedoch die Äthiopier nicht weiter stört. Für sie war und ist Makeda ihre Königin von Saba und Mutter von Menelik dem I, dem Begründer des axumitischen Reiches.