Granite Rocks near Nuuk#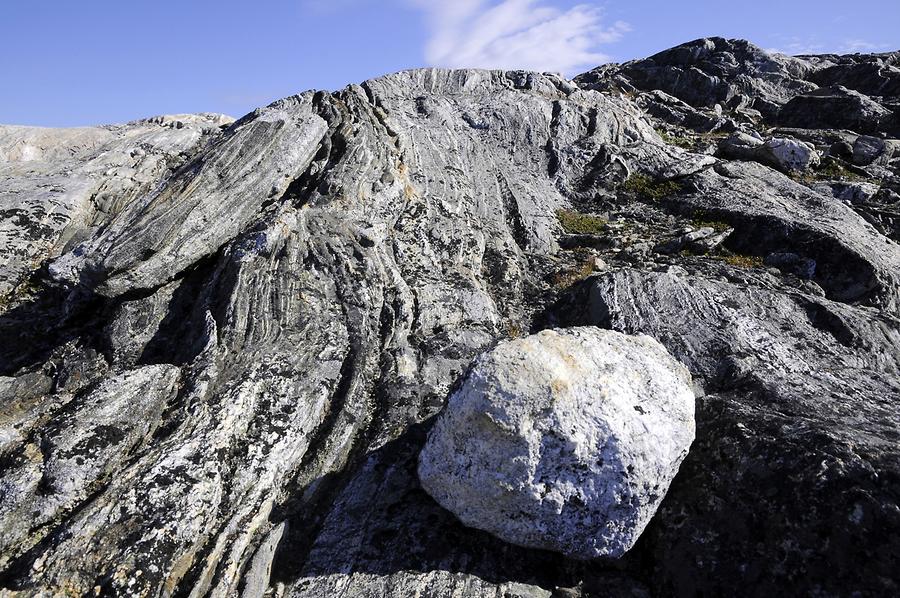 Greenland is one of the oldest regions of our planet. Near Nuuk
Greenland, Nuuk
granites, 3.7 billion years old, were found. On the other hand, the ice sheet, up to 3500 m thick and covering 85% of the area of Greenland, is of much more recent date. It originated 3 million years ago and was then twice as thick as today. The enormous weight of the ice masses caused the island to subside 800 m. Only after the end of the ice age did the land rise again and the melting glaciers left behind numerous fjords.
Grönland zählt geologisch zu den ältesten Gebieten unseres Planeten. In der Nähe von Nuuk
Grönland, Nuuk
hat man Granite gefunden, die ein Alter von 3,7 Milliarden Jahren aufweisen. Viel jüngeren Datums ist dagegen der bis zu 3500 m dicke Eisschild, der 85 % der Fläche Grönlands bedeckt. Er entstand vor 3 Millionen Jahren und war damals doppelt so dick wie heute. Das enorme Gewicht der Eismassen bewirkte, dass die Insel um 800 m absackte. Erst nach Ende der Eiszeit hob sich das Land wieder und die abschmelzenden Gletscher ließen zahlreiche Fjorde zurück.