Runestones at Sigtuna#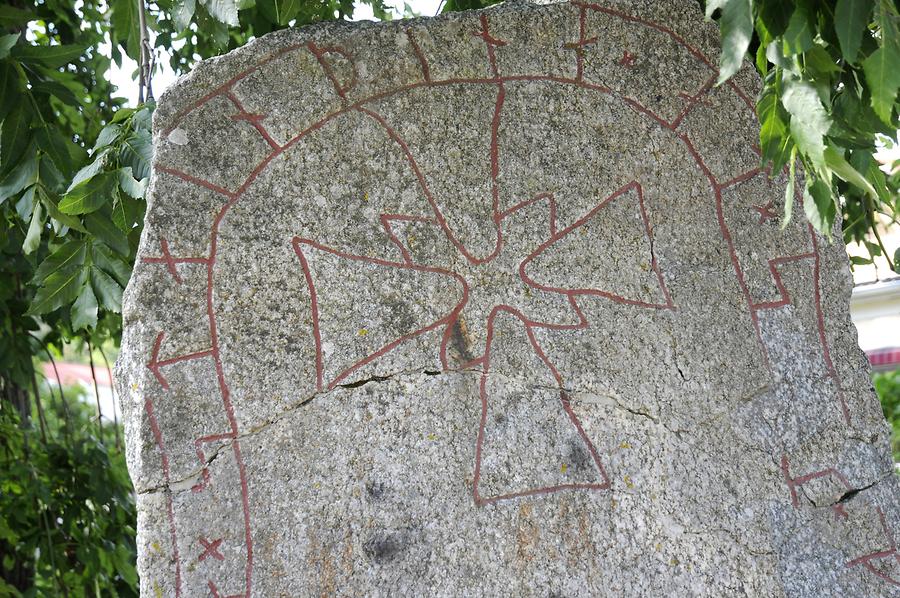 The entrance to the castle is marked by runestones aged between 1,000 and 1,800 years. From the Migration Period to the Viking age it was common to erect stone monuments covered with enigmatic runic inscriptions for deceased nobles. Runes are old Germanic characters with an alphabet consisting of 24 letters and phonetic symbols. Runes could also be used as numbers and magical symbols. Developed from a number of South European and Celtic scripts, these mysterious runes were never used for day-to-day communication, but only served as a kind of magical script with a lot of its meaning being a riddle until this day.
Den Eingang zum Schloss markieren 1000 bis 1800 Jahre alte Runensteine. Von der Zeit der Völkerwanderung bis zu den Wikingern war es üblich, Steindenkmäler für hochgestellte verstorbene Persönlichkeiten aufzurichten, versehen mit rätselhaften runischen Inschriften. Als Runen bezeichnet man die alten Schriftzeichen der Germanen, ein Alphabet aus 24 Buchstaben und Lautzeichen. Runen können ebenso als Zahlen oder magische Symbole verwendet werden. Entwickelt aus einem Sammelsurium mehrerer südeuropäischer und keltischer Schriftsysteme, wurden die mysteriösen Runen niemals zur Alltagskommunikation verwendet, sondern waren eine Art Zauberschrift, deren Bedeutung bis heute großes Rätselraten hervorruft.