Skansen - Elk#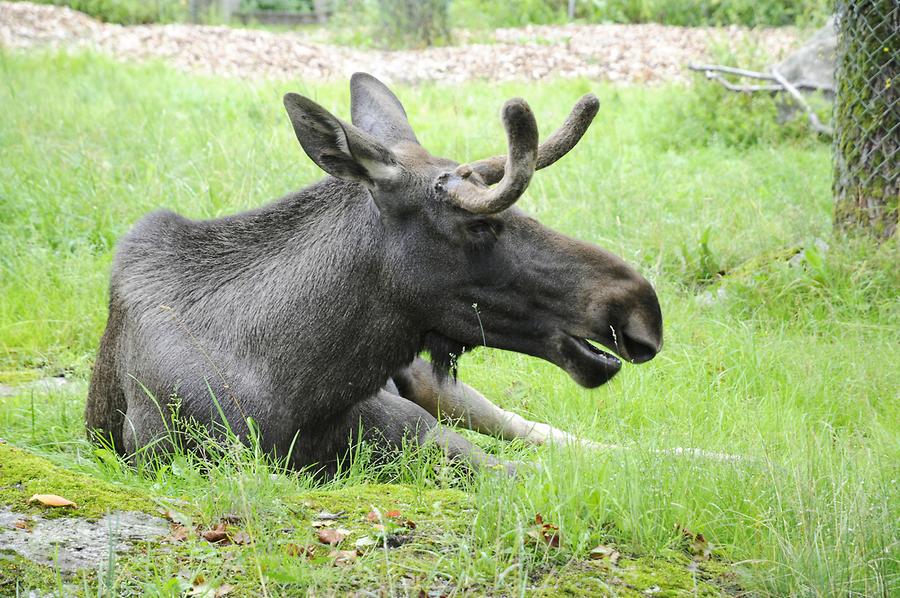 The open-air museum also explores the Scandinavian fauna. Here the moose claims to be king of the animals and whenever he is not pull in the sled of Santa Claus (in most stories thisis done by reidndeers), this giant deer weighing 800 kg spends his time eating and defending his territory. For this second purpose they need their mighty antlers, which they shed every winter. It regrows slowly to reach its full size in rutting season in Autumn.
Das Freilichtmuseum entführt auch in die skandinavische Tierwelt. Dort fühlt sich der Elch als König der Tiere und wenn er nicht gerade den Schlitten des Weihnachtsmannes zieht
No InterWiki reference defined in properties for Wiki called "Anm."!
, ist der 800 kg schwere Riesenhirsch mit Fressen und Revierverteidigung beschäftigt. Für letzteres benötigen die Bullen ein mächtiges Geweih, das sie jedoch jeden Winter abstoßen. Langsam wächst es nach, um bis zur Brunftzeit im Herbst seine volle Größe zu erreichen.