City Hall - Blue Hall#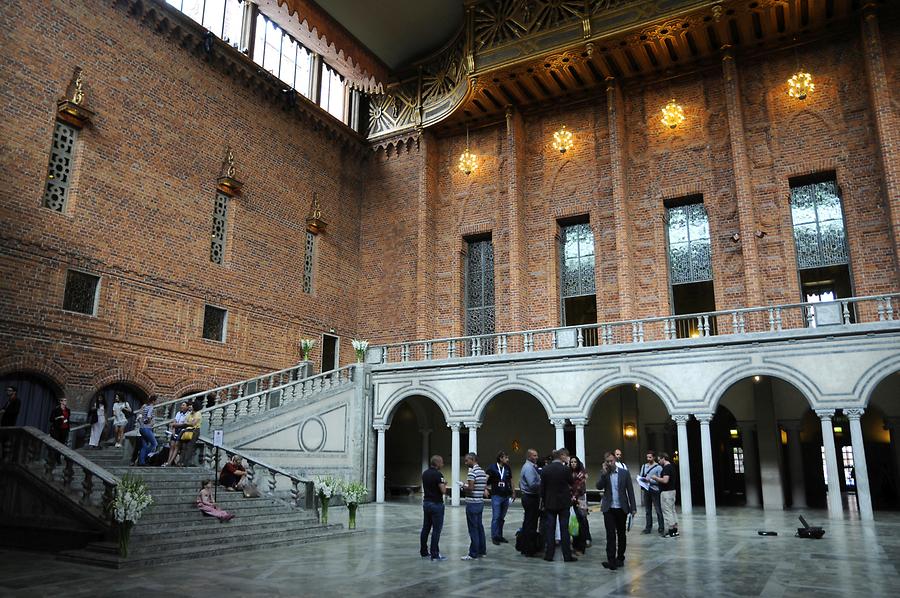 Among the magnificent halls the Blue Hall stands out. Ironically there is no slight of blue color in the hall. Originally the walls were supposed to be painted blue to symbolize the sea, but the architect Östberg changed his mind last minute and the walls remained red. The busy architect had the reputation to be an uncompromising perfectionist. So his wife had to climb stairs of different step heights, until the maestro had found the ideal measurements for his grand staircase.
Unter den prunkvollen Festsälen sticht die Blaue Halle besonders hervor. Kurioserweise findet sich kein Schimmer blaue Farbe in der Halle. Ursprünglich sollten die Wände nämlich als Symbol des Meeres Blau gestrichen werden, aber in letzter Minute änderte der Architekt Östberg seine Meinung und die Halle blieb rot. Der umtriebige Baumeister hatte zudem den Ruf eines kompromisslosen Perfektionisten. So musste seine Frau eine Woche lang Stufen mit verschiedendsten Abmessungen probelaufen, bis der Meister die idealen Maße für die große Treppe gefunden hatte.