Altamira - Cave Painting#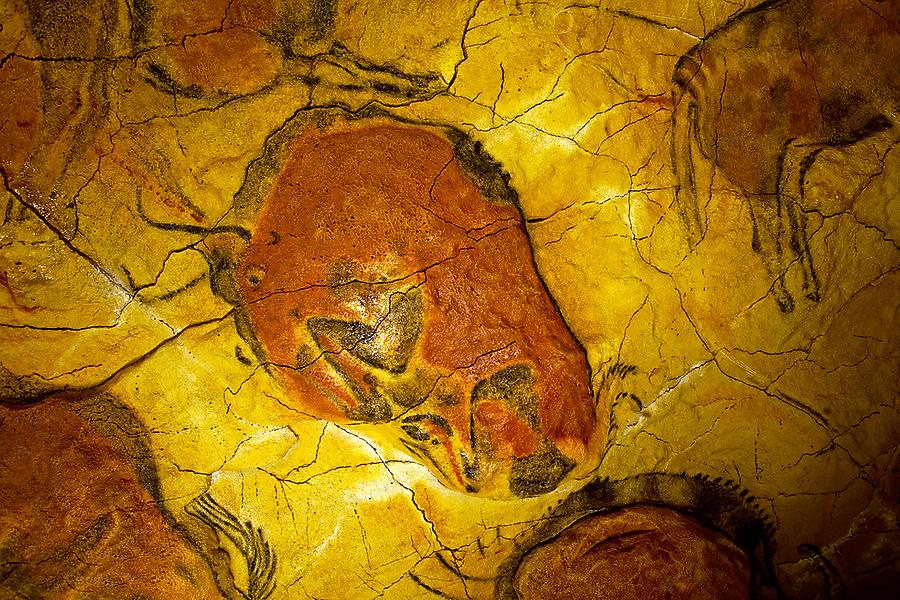 Maybe already in those days the thoughts of men revolved around these three questions: Where am I coming from? Who am I? Where am I going to? Besides death, birth was the greatest enigma of that time. This led to the development of fertility cults which, then again, found their artistic representation in weighty Venus figurines. Presumably people believed in an afterlife, as funerary goods suggest. Although these archaeological finds and cave paintings open a window into the distant past of mankind, we will never be able to get down into the mind of a prehistoric hunter-gatherer. These works of art will probably be forever embedded in a fog of mysticism and cause further speculations in the future.
Die Gedanken der Menschen kreisten wohl schon damals um die drei Fragen: Woher komme ich? Wer bin ich? Wohin gehe ich? Neben dem Tod war die Geburt das große Mysterium der damaligen Zeit. Dies führte zur Entstehung von Fruchtbarkeitskulten, die wiederum in der Darstellung gewichtiger Venusfiguren ihren Ausdruck fanden. Man glaubte vermutlich an ein Weiterleben in einer jenseitigen Welt, wie Grabbeigaben nahelegen. Auch wenn diese archäologischen Funde und die Höhlenmalereien ein Fenster in die ferne Vergangenheit der Menschen öffnen, wird es niemals gelingen, in die Gedankenwelt eines urzeitlichen Jägers und Sammlers vorzudringen. Die Kunstwerke werden wohl für immer in einen Nebel der Mystik eingebettet sein und auch in Zukunft Anlass für Spekulationen geben.