Saurian Tracks Valdecevillo#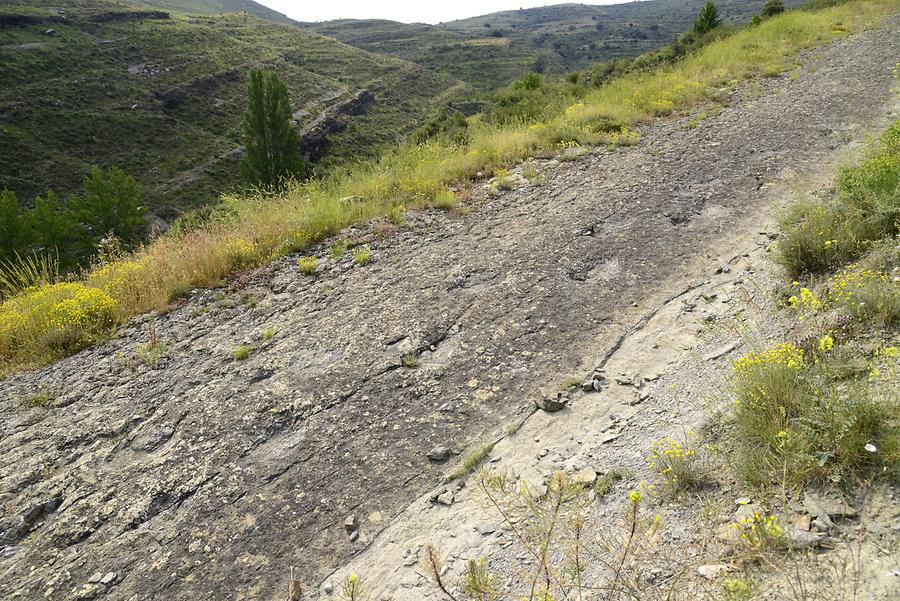 The creatures who have left their tracks here, had feet of up to 50 cm long, that matches shoe size no. 80. However, there were no shoes 115 million years ago, when different types of dinosaurs traversed a muddy lakeside zone here. Later on, this area must have dried out. Fine sediment layers overlay the petrified mud and preserved the tracks.
Die Wesen, die hier ihre Spuren hinterließen, hatten bis zu 50 cm lange Füße, das entspricht immerhin der Schuhgröße 80. Allerdings gab es vor 115 Millionen Jahren noch keine Schuhe, als hier verschiedene Saurierarten eine schlammige Seeuferzone entlangwanderten. Kurz darauf muss dieser Bereich ausgetrocknet sein. Feine Sedimentschichten überlagerten den versteinerten Schlamm und konservierten die Spuren.