City Hall - Jens Olsen's World Clock#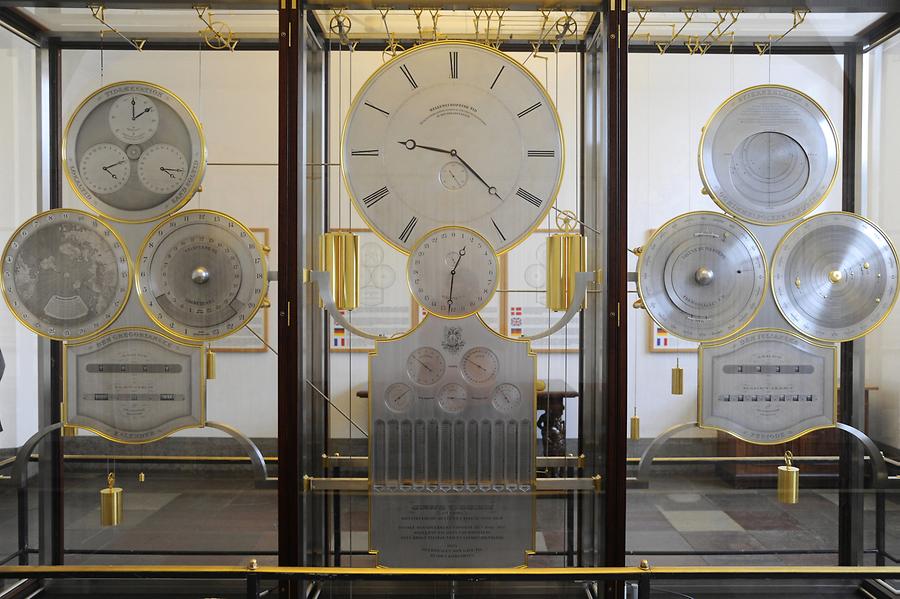 An attraction inside of the building is Jens Olsen's World Clock which not only displays the time, but also calculates astronomical data, such as solar and lunar eclipses and the course of the stars. Furthermore, you can create an unlimited calendar with it. The technical masterpiece, completed in 1955, consists of 12 clock mechanisms with a total of 14,000 parts. The fastest cog wheel rotates once every 10 seconds while it takes the slowest exactly 25.753 years.
Attraktion im Inneren ist die Weltuhr von Jens Olsen, die nicht nur die Zeit anzeigt, sondern auch astronomische Daten berechnet, wie Sonnen- und Mondfinsternisse und den Lauf der Sterne. Dazu lässt sich mit ihr ein unbefristeter Kalender erstellen. Das 1955 fertiggestellte technische Meisterstück besteht aus 12 Uhrwerken mit insgesamt 14.000 Teilen. Das schnellste Zahnrad dreht sich alle 10 Sekunden einmal im Kreis, während das langsamste für eine volle Umdrehung exakt 25.753 Jahre benötigt.