Prague#
Panoramas and text by Stanislav Sedov and Dmitry Moiseenko, members of the AirPano Team that is a member of the global-geography Consortium.

17 July 2013
with kind permission of AirPano
Prague is one of the most famous and beautiful cities in the world. The city's nine hills are situated on the bank of the Vltava River, offering very picturesque views, at the same time placing the city in the immediate danger of a flood.
The territory of the modern Prague was settled as early as 4000 BC, but the city was founded in 9th century when the first wooden fortifications and moat were built. In year 965 travelers described Prague as "a city of stone and limestone, and the richest marketplace".
There are many unique architectural landmarks in Prague that survived to this day: Powder Tower, medieval Vyšehrad fort, Old Town Square, Jewish Quarter, Charles Bridge, etc. The famous Prague Castle is the biggest presidential residence in the world, and, according to some sources, the biggest castle in the world. There are other unusual and mysterious castles in the city, and the legendary Faust's house is among them.

St. Vitus Cathedral, that has been under construction for more than 500 years, is a unique structure that combines architectural styles of several different centuries. One of the most unusual buildings of Prague is the Dancing House, an office building built in deconstructivist style. It seems as if two of its towers are merged in the unending and passionate dance. Petrín Lookout Tower, a twin of Eiffel Tower in Paris, was built by the initiative of The Club of Czech Tourists after they visited the World's Fair in 1889.
Prague has one of the narrowest streets in the world with a frivolous name Vinarna Certovka. In reality it's a 70-centimeter wide passage between several houses where you can't get past each other no matter how hard you try. For passerby's convenience (most of whom are tourists) there is a traffic light, which signals when the street is free or occupied.
On the Battle of Vitkov Hill there is a monument dedicated to the Czech national hero John Zizka (Jan Žižka). It weighs 16.5 tonnes (head alone weighs 109 kilograms!) and has a height of 9 meters which officially makes it the tallest equestrian statue in the whole Europe.
There is also a pneumatic post in Prague, it's the world's last preserved municipal pneumatic post system. 55-kilometer communication lines run underground along the ancient underground tunnels. Before the 21st century they were used to transfer 2000 mail capsules; the speed often reached 36 km/h. A very strong flood in 2002 heavily damaged this unique system, but the city is planning to restore the pneumatic post to fully operational state.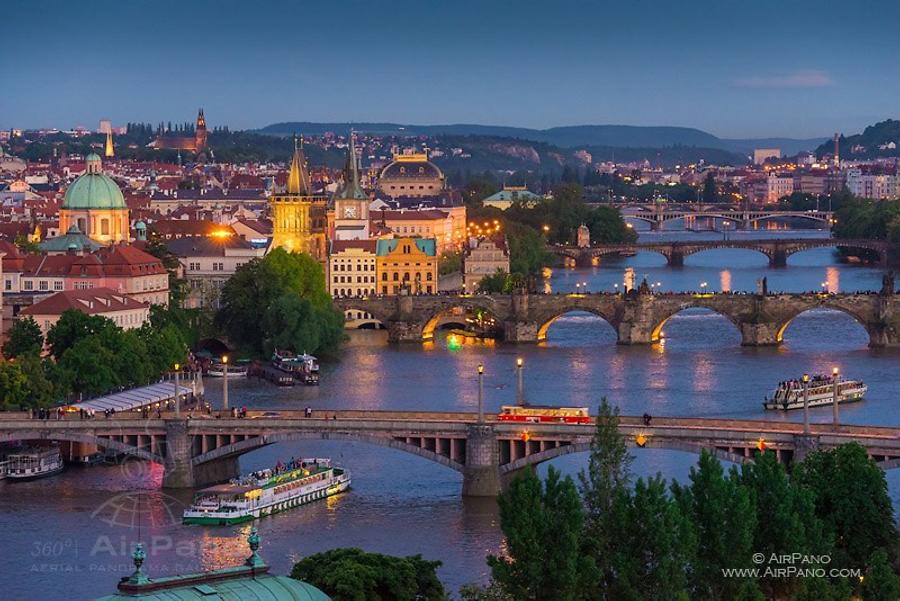 It will take a lot of time to tell you about each and every Prague landmark: the capital of Czech Republic is famous for its architecture, but only few people know that there are ten times more green spaces than buildings in the city. Given the fact that the total area of city is 496.07 square kilometers, buildings take up only 48,71 square kilometers. Prague's greenery includes not only forests and parks, but first and foremost agricultural lands: ploughed fields, meadows, vineyards, orchards, and even garden plots.
There is plenty to see in the cities situated not far from Prague. Kutná Hora is the most famous of them: it was the second most important city in the Chezh Kingdom, the source of "silver rush" in Europe. Kutná Hora is situated 60 kilometers away from Prague. Its medieval center has remained almost unchanged, which is why in 1995 it was included in the UNESCO List of World Heritage Sites.
The most famous landmark of the city is St. Barbara's Church that was under construction from the 14th to the 16th century. It's the biggest and most important gothic cathedral in Czech Republic after St. Vitus Cathedral. There are also other interesting buildings in the city, but the most extraordinary landmark is the Sedlec Ossuary (Kostnice v Sedlci); the name reflects its ominous history. In the 19th century it was decorated with human bones: they couldn't find any other use for tens of thousands human remains from a local overfilled cemetery.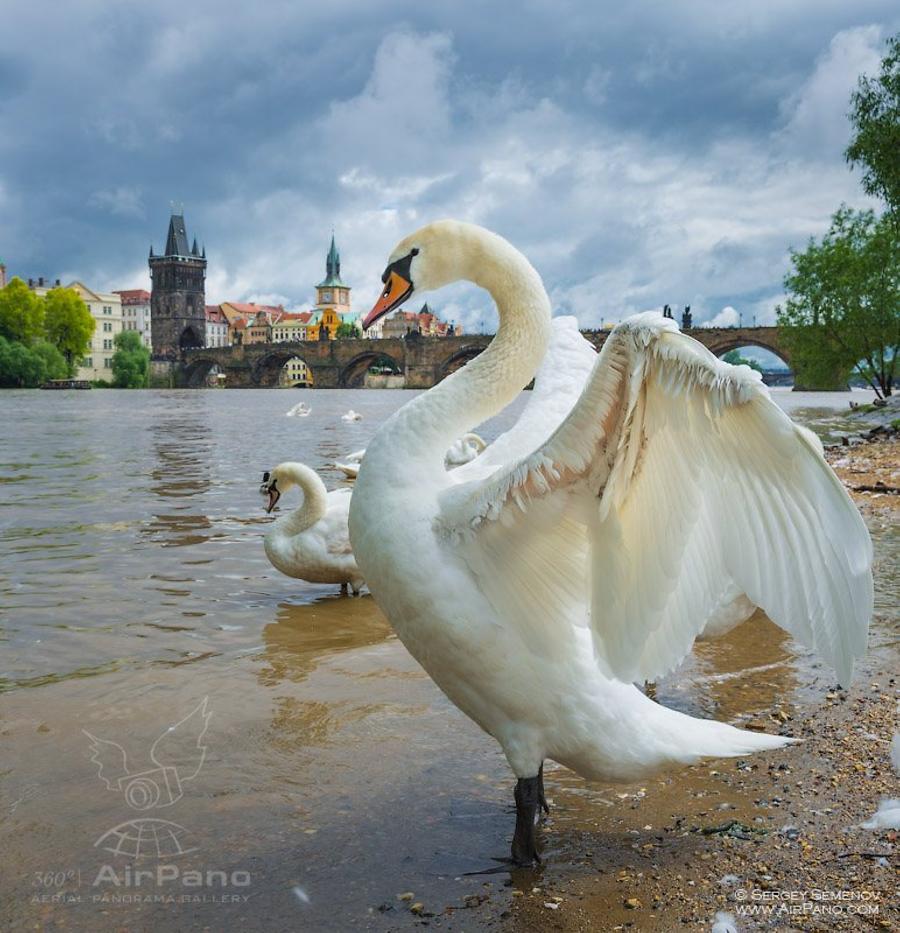 Bones and skulls decorate chandeliers, ostensories, walls, coats of arms, and many other things. In total they used 50 thousand human remains for the decoration purposes. This makes this chapel in Sedlec, located in Kutná Hora's suburbs, truly "gothic" in the literal sense of the word: there is no other cathedral in the world that have this strong connection to the realm of the dead.
Nevertheless, it doesn't look gloomy, and nowadays this unique example of gothic architecture attracts thousands of tourists.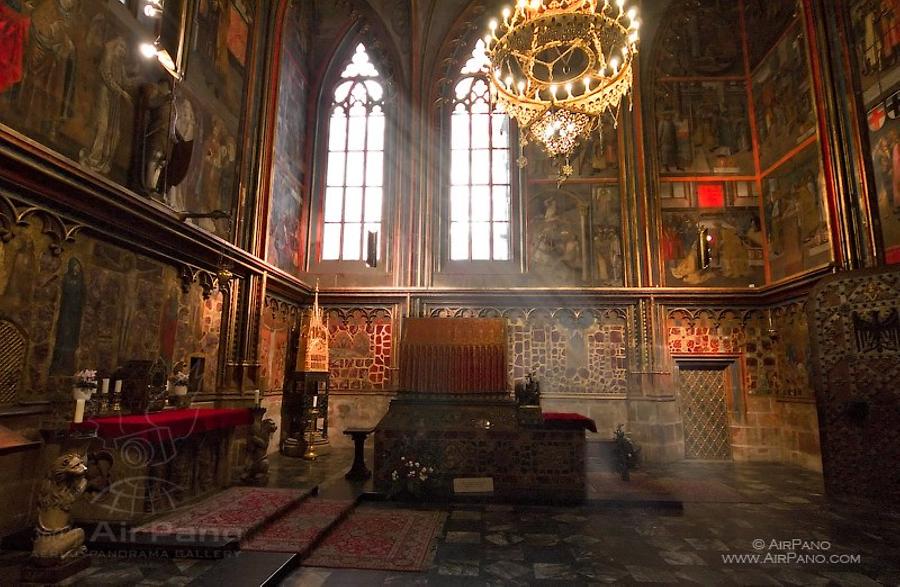 And now let me turn the floor over to Satislav Sedov, who will share some of his impressions about the trip.
"What should I write about this trip?" I asked myself, while taking a walk along the deserted streets of Old Town Square. All I did was follow the usual routine of my helicopter's take-offs and landings, but this time it was in Prague.
Having launched my helicopter near St. Vitus Cathedral, Dima and I decided to get closer and have a better look at it, but we failed do that. I could feel someone breathing down my neck, and when I turned back I saw a young police officer.
"You need to come with me."
"Is there a problem?"
"Yes."
And we had to follow him, not in the direction of the cathedral, but into the maze of office buildings. On our way, one after another, several policemen showed up out of nowhere to escort us. They brought us into inconspicuous entrance, and there Dima and I realized that we were in serious trouble.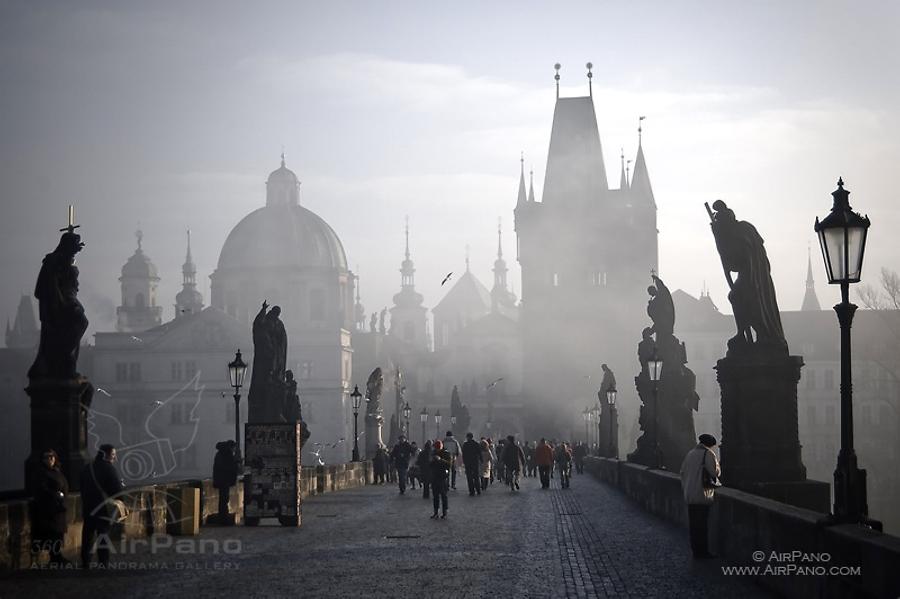 An officer in white shirt showed up, and without even looking at us started to give orders to his subordinates. We couldn't understand a word he was saying, but the meaning was quite clear. After some time they brought an interpreter into the room, who explained that we were regarded as a threat to national security for flying a helicopter near president's office and that we would be dealt with accordingly.
He couldn't explain the "dealt with accordingly" part, but we were ready to cooperate in any way we could and pass all kinds of background checks in order to prevent an international scandal, and we said that to the officer through our interpreter.
It wasn't the first time we were arrested by a local police in a foreign country, and we knew that police check procedures are similar in many ways, but it was the first time we undergone such meticulous search. They turned our pockets and backpacks inside out. It's funny, but they found a flash drive that I lost six month ago in the bottom of my backpack. I'm thankful to Czech police for this.
After showcasing all of our equipment on the tables and benches, they started the inventory process. They invited a technical assistant to check all our flash drives. At the same time somewhere in the depths of the building they were running a criminal background check on us.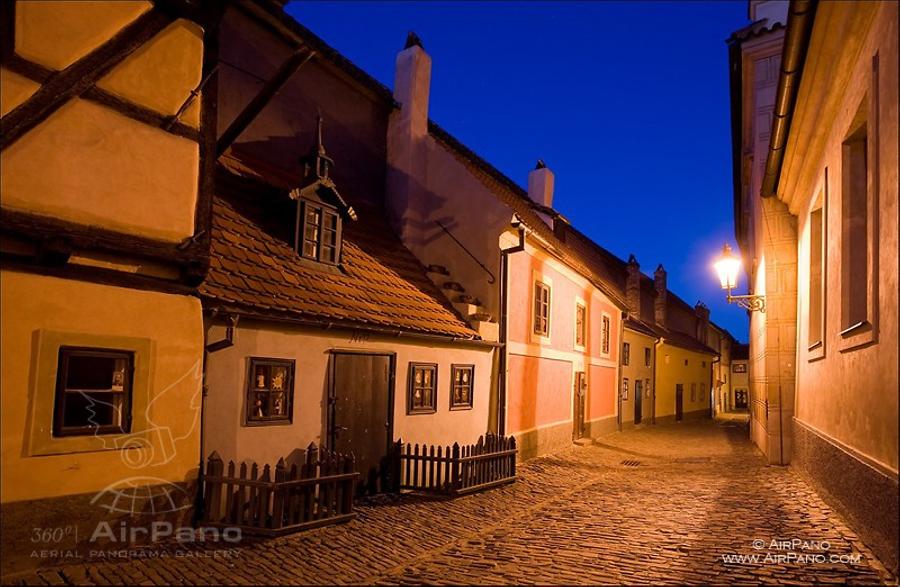 It's worth to mention that the serious officer was mean only the first half an hour. After he made sure that we weren't terrorists he visited his department several times and each time he came back his face was more and more cheerful.
"We completed another phase of background check. Everything is alright. Wait a little bit longer, if everything goes well we'll let you go soon enough.

Two hours later they brought back our flash drives. Technical assistant didn't find anything suspicious in them.
In another 30 minutes they finished their background check. After that they gave back all our things and bid us farewell. To be honest, I thought they would delete all the footage that got us into this mess in the first place, but they didn't do that and let us have all the pictures.
It's strange how farewells are different from the first moments of greetings. They said goodbye and asked us to never fly near president's office again.
Despite of the terrifying story described here by Stas, Prague atmosphere is very warm and cozy. It feels like home. Smiling Czech people, lost and confused foreigners, delicious beer, and narrow streets...

And most importantly, almost everyone understood us right away on a street and in stores. We hardly had to "turn on" our English. But of course! One could hear Russian language spoken everywhere. For example, in Prague our camera crew was welcomed and accommodated by Pavel Oskin, a photographer, a blogger, and a very nice guy. Thanks to his good care, we had a roof above our heads, and a car that took us around half of Europe.