Sheikh Saeed Al Maktoum House#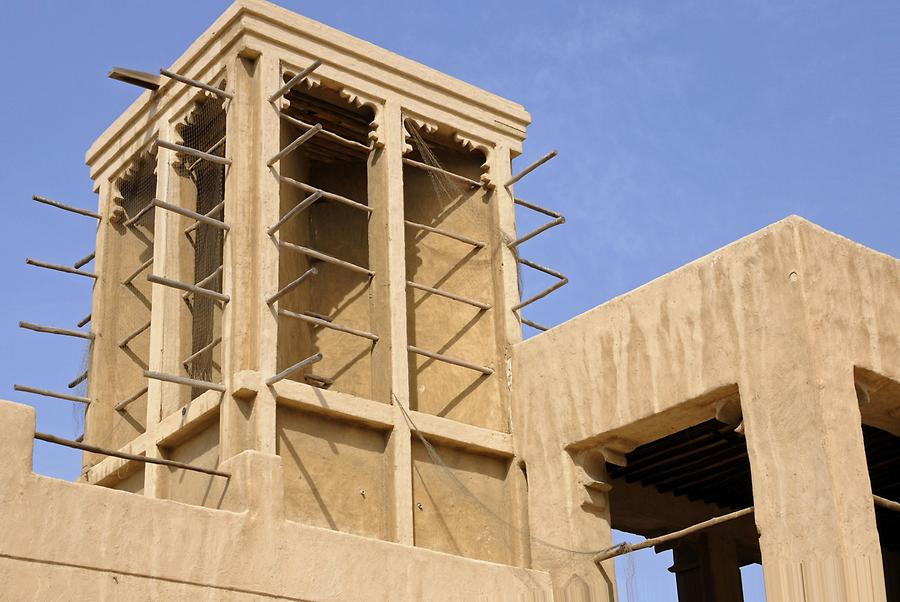 The most prominent architectural feature of the Arab earth building are the wind towers, a natural air conditioning system, which manage entirely without electricity. Via vertical channels even the smallest breath of wind reaches the rooms below and produces its cooling effect. The ingenious system works just as well when there is no wind. If, for example by night, the temperatures in the building are higher than outside, the cold air is drawn into the house by the chimney effect. If the air is also directed over an underground water channel called Qanat, the cold water creates an additional cooling effect. That way the usually windowless rooms remain pleasantly cool even at outside temperatures of 50 degrees.
Das markanteste Architekturmerkmal der arabischen Lehmbauten bilden die Windtürme, natürliche Klimaanlagen, die ganz ohne Strom auskommen. Über vertikale Kanäle gelangt jeder noch so kleine Windhauch in die darunter liegenden Räume und entfaltet seine kühlende Wirkung. Die geniale Anlage funktioniert genauso gut bei Windstille. Herrschen z.B. nachts im Gebäude höhere Temperaturen als draußen, wird die kalte Luft durch den Kamineffekt ins Haus gesaugt. Wird der Luftstrom zusätzlich über einen unterirdischen Wasserkanal, den sogenannten Qanat, geführt, erzeugt die über das kalte Wasser streichende Luft einen zusätzlichen Kühleffekt. So bleiben die meist fensterlosen Räume auch bei Außentemperaturen von 50 Grad angenehm kühl.