Dhows on Dubai Creek#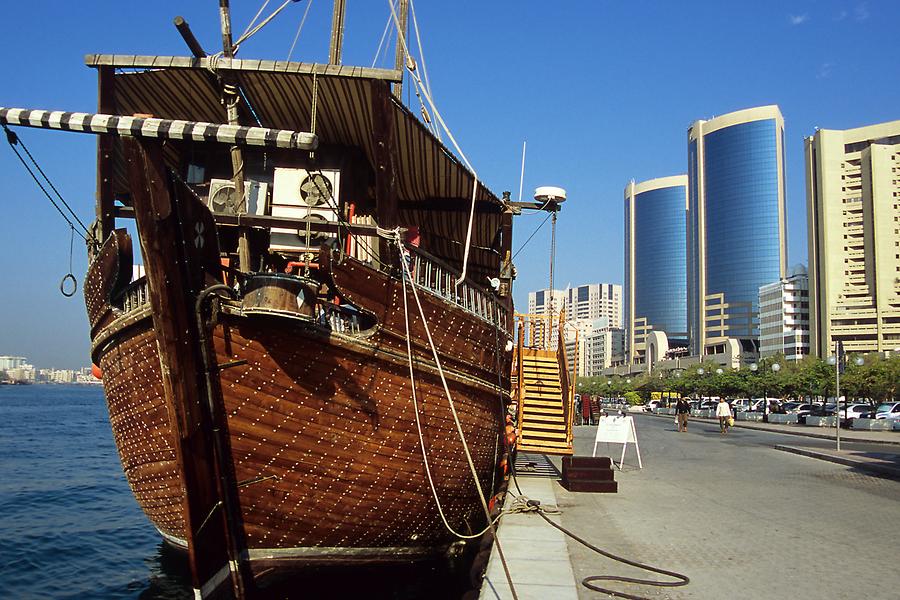 Along the bank of the Creek the contrary worlds of Dubai reveal themselves clearly to the visitor. In front of futuristic skyscrapers made of chrome and glass old, wooden dhows are at anchor. Even Sinbad, the legendary hero of "Arabian Nights" traveled the world with one of these gliders which supply the regions between India and East Africa with goods. Nothing has changed to this day, even the design remained the same over the millennia. With the simplest tools and without using construction plans the timer is knocked together, lengths and curvatures being still calibrated with the naked eye. 15 boatbuilders need 6 months to craft a dhow.
Entlang des Creekufers geben sich die konträren Welten Dubais besonders deutlich zu erkennen. Vor futuristischen Hochhäusern aus Chrom und Glas ankern alte, hölzerne Dhaus. Schon Sindbad, der legendäre Held aus "1001 Nacht" bereiste die Welt mit diesem Lastensegler, um die Region von Indien bis Ostafrika mit Waren zu beliefern. Daran hat sich bis heute nichts geändert. Selbst die Bauweise blieb über die Jahrtausende gleich. Mit einfachstem Werkzeug und ohne Verwendung von Plänen werden die hölzernen Konstruktionen zusammengezimmert, wobei man Längen und Krümmungen immer noch mit freiem Auge einmisst. 15 Schiffsbauer brauchen über 6 Monate, um eine Dhau zu fertigen.