Shahriston Pass - Breakdown#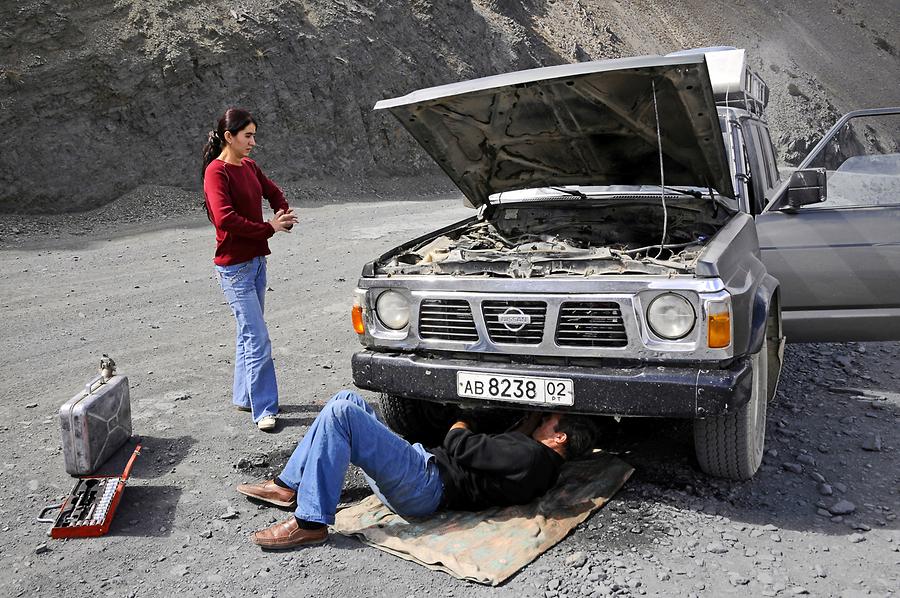 Scarcely 100 m before reaching the summit, the decrepit Nissan meets its fate owing to a bursted cooling hose. But our driver is well prepared. No problem - he says - such a breakdown happens every few hundred kilometres. Anyway, the trunk is half-full with tools and spare parts and after 30 minutes we can continue our journey.
Kaum 100 m vor Erreichen der Passhöhe ereilt den altersschwachen Nissan das Schicksal eines geplatzten Kühlschlauches. Doch unser Fahrer ist gut vorbereitet. Kein Problem – meint er – eine solche Panne passiere alle paar hundert Kilometer. Der Kofferraum ist ohnehin zur Hälfte mit Werkzeugen und Ersatzteilen gefüllt und schon nach 30 Minuten können wir unsere Fahrt fortsetzen.