Some impressions of Pakistan#
General#
Pakistan is divided into three major geographic areas: the northern highlands, the Indus River plain and the Balochistan Plateau. The northern highlands contain the Karakoram, Hindu Kush and Pamir mountain ranges which contain some of the world's highest peaks, including five of the fourteen eight-thousanders which attract adventurers and mountaineers from all over the world, notably K2 and Nanga Parbat. The Balochistan Plateau lies in the west and the Thar Desert in the east. The 1,609 km Indus River and its tributaries flow through the country from the Kashmir region to the Arabian Sea. There is an expanse of alluvial plains along it in Punjab and Sindh.

The climate varies from tropical to temperate, with arid conditions in the coastal south. There are four distinct seasons: a cool, dry winter from December through February; a hot, dry spring from March through May; the summer rainy season from June through September; and the retreating monsoon period of October and November.
Islamabad#
Islamabad

Islamabad

is the capital city of Pakistan. It has a population of about two million. Islamabad is located in the Pothohar Plateau in the northeastern part of the country, between Rawalpindi District and the Margalla Hills National Park to the north. It was built during the 1960s to replace Karachi as Pakistan's capital. The city is home to the Faisal Mosque, the largest mosque in South Asia and the fourth largest mosque in the world, after Mecca, Medina and Isfahan. Islamabad's population is dominated by middle and upper middle class citizen's. The city is home to sixteen recognized universities. The city has an elaborate surveillance system with 1,900 CCTV cameras contributing towards one of the lowest crime rates in the country. The economy of Rawalpindi (the fourth largest city in Pakistan by population) is economically interlinked with Islamabad and the two are jointly known as twin cities. Indeed, for the ousider the two cities seem to have merged into a metropolis of some 10 million people.
Lahore#
Lahore

Lahore

is the second largest and most populous city (10 million) in Pakistan, after Karachi. The city is located near the border with India. Lahore is one of Pakistan's wealthiest cities. It is is one of Pakistan's most liberal and cosmopolitan cities with a Muslim majority and a large Christian population. Additionally, Lahore contains some of Sikhism's holiest sites, and is a major Sikh pilgrimage site. The city is a major centre of education in Pakistan, with some of Pakistan's leading universities. Lahore is also home to Pakistan's film industry, Lollywood. The city is a major tourist destination, particularly the areas surrounding the ancient Walled City which is home to several World Heritage Sites.
Karachi#
Karachi

Karachi

is the largest and most populous city in Pakistan (some 15 Million people). Karachi was the capital of Pakistan until 1958. It is Pakistan's most cosmopolitan city. Situated on the Arabian Sea, Karachi serves as a transport hub, and is home to two of Pakistan's two largest seaports, the Port of Karachi and Port Bin Qasim, as well as the busiest airport in Pakistan. The city is Pakistan's premier industrial and financial centre and still grows by almost 5% yearly due to migration.
Other very large cities in Pakistan#
This includes Hyderabad Hyderabad Faisalbad Faisalabad Multan Multan and Peshawar Peshawar . They have 7.6, 7.5, 4.1 and 4.0 million inhabitants, respectively, and some (like Hyderabad) are growing so fast that figures can easily be out of date.
Taxila archeological site#
See Special Information on Taxila
Khewra salt mines#
See Special Information on Khewra
The high mountains#
Traditional Pakistan#
Pakistan offers modern highways, supermodern buildings, great momuments of art, both old or more recent (like the Faisal Mosque shown above, impressive mountain scenery, sometimes chaotic traffic that may create some smiles because of the colourful painted trucks and buses (see next section), nice scenery, and of course bazars and handicraft shops despite the competititon by modern supermarkets.
Trucks in Pakistan#
It comes as surprise to most foreigners that trucks are decorated lovingly all over. What at first glance may look like an interesting yet strange thing to do become more serious if one digs a bit deeper: The truck-drivers are mainly from remote villages, unable to see their relatives, friends and beloved village scenery only a few times a year. To see a bit of this, they have their trucks painted with images that give them a bit to remember their home. Hence: Do not laugh at some of the pictures, but realize that they show a dose of human homesickness.
Traffic and other problems in Pakistan#
With 4,500.000 cars in the "Twin-city" area (Rawalpindi and Islamabad have merged into one metropolis over the last 5 years) and 62% of electrical power generated by coal burning power stations, traffic and electricity pollute the air in this area (and the same in other large cities in Pakistan liken the 15 million monster Karachi) tremendously and are responsible for the death of an estimated 100.000 persons per year. Hence the production of clean energy has high priority in Pakistan, leading (like in India and China) to the increased use of nuclear energy. Fortunately, there are moves to use Thorium rather than Uranium: Thorium nuclear power stations cannot have a melt-down, hence are much less dangerous than Uranium reactors, and produce less problematic radioactive waste.

Concerning traffic, it is of course left-hand side driving and except on the motorways (some with 6 lanes in one direction!) traffic is chaotic, particular in old cities like Rawalpindi or such. Also, tranportation can be a bit unsual as the few following pictures show.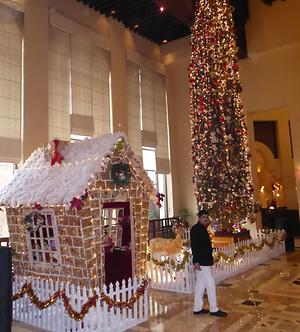 Pakistan is a beautiful country with friendly people.
That travel is not recommendable in some parts of the country at this point in time (early 2017) is well-known. One can only hope for a further increase of safety, as it noticeable in large parts of central Pakistan.
This report would not be complete with at least some criticism, e.g. concerning the tremenduous gap between rich and poor. A single room in the posh Islamabad Serena hotel costs US $330.- per night. Yet the driver bringing guests from the airport and back has a monthly salary of US $140.- (and I guess some tips). This cannot be a stable situation in the long run.
The hotel mentioned offers astounding luxury and is completely international. Locals are not allowed in, so they don't see the wealth displayed here. All is done to please also foreign guests by even inlcuding a ceremony for lighting a huge X-mas tree!