Mountain landscape at Petra#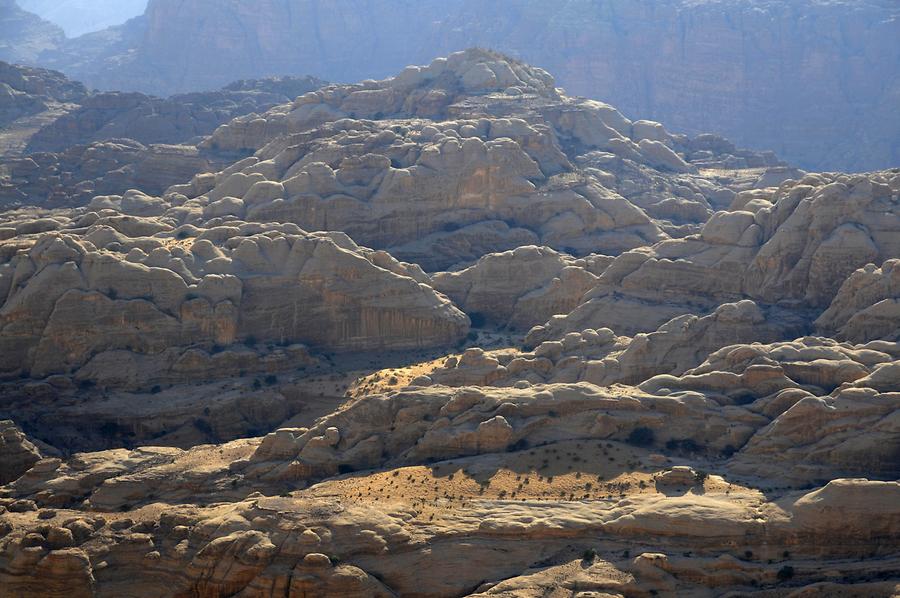 Some years ago an online enquiry was initiated by the Swiss author Bernhard Weber to determine the Seven New Wonders of the world. More than 100 million people participated in the enquiry and since 2007 it is official: the Nabatean rock-cut city Petra is one of these Seven New Wonders, amongst other monuments like the Taj Mahal, the Great Wall of China and the Colosseum in Rome. For a good reason, since in Petra outstanding cultural achievements are combined with breathtaking surrounding nature to create a unique symbiosis. Two architects can be identified as being responsible for this work of art: natural erosion and the mysterious Nabatean people that commanded a powerful merchant empire from the fifth century BC to the second century AD. Their capital was located right at the center of the most important trading route of the time. It was the silk from China, the spices from India and the incense from Yemen, which formed the foundation for the legendary wealth of the Nabateans. Soon almost all of the world's spice trade was conducted by them. The goods were repackaged in the secure city of Petra and then ship to Europe from the port of Gaza. Another trading route connected the city with Egypt. There, the Nabateans shipped the asphalt for embalming the dead, which they had mined at the Dead Sea.
Vor einigen Jahren wurde auf Initiative des Schweizer Autors Bernhard Weber eine Internetumfrage gestartet, die zum Ziel hatte, die Sieben neuen Weltwunder unseres Planeten zu ermitteln. Mehr als 100 Mio. Menschen nahmen an der Abstimmung teil und seit 2007 steht fest: die nabatäische Felsenstadt Petra
Jordanien, Petra
gehört neben Monumenten wie dem Taj Mahal, der chinesische Mauer und dem Kolosseum in Rom zum Kreis der neuen Sieben Weltwunder. Nicht zu Unrecht, denn in Petra verknüpfen sich herausragende kulturelle Zeugnisse mit einer grandiosen Natur zu einer weltweit einmaligen Symbiose. Zwei Architekten zeichnen für das Gesamtkunstwerk verantwortlich: die natürliche Erosion und das geheimnisvolle Volk der Nabatäer, die vom 5. vorchristlichen bis zum 2. nachchristlichen Jahrhundert über ein mächtiges Handelsreich herrschten. Ihre Hauptstadt Petra lag genau im Zentrum der wichtigsten Handelsstrassen der damaligen Zeit. Es waren die Seide aus China, die Gewürze aus Indien und der Weihrauch aus dem Yemen, die die Grundlage für den legendären Reichtum der Nabatäer bildeten. Schon bald lief fast der gesamte Welt-Gewürzhandel durch nabatäische Hände. Im geschützten Petra wurden die Kostbarkeiten umgeladen und über den Hafen von Gaza nach Europa verschifft. Ein weiterer Handelsweg verband die Stadt mit Ägypten. Dorthin lieferten die Nabatäer den für die Einbalsamierung der Toten unerläßlichen Asphalt, den sie am Toten Meer abbauten.