Street Market - Hani#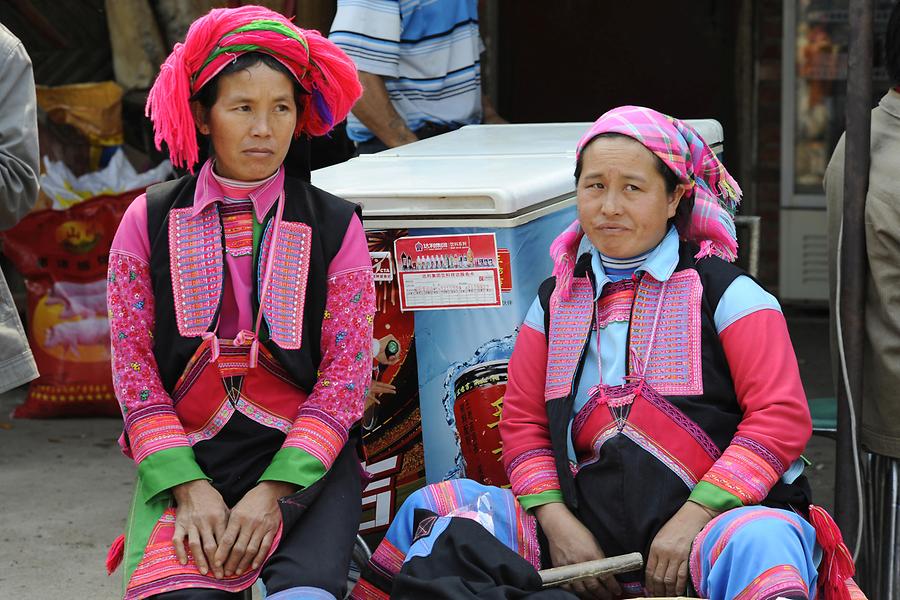 The Hani speak their own language, believe in animated nature and worship ancestors and spirits. Everything in people's lives turns on the soothing of moody spirits, even though Chinese modern life has long since reached the main town of Xinji. Each incident, whether a fallen tree, dogs climbing roofs or wild animals in the village, is considered an omen and is usually associated with the imminent arrival of evil spirits. Giving birth to twins or handicapped children also arouse fears in the people. According to tradition, they were immediately killed, the family was expelled from the village and their house burnt down.
Die Hani sprechen ihre eigene Sprache, glauben an eine beseelte Natur und verehren Ahnen und Geister. Alles im Leben der Menschen dreht sich um die Besänftigung der launischen Geister, auch wenn im Hauptort Xinji längst die chinesische Moderne Einzug hält. Jedes Ereignis, ob umgefallener Baum, aufs Dach kletternde Hunde oder wilde Tiere im Dorf gilt als Zeichen und wird meist mit der bevorstehenden Ankunft böser Geister in Verbindung gebracht. Tiefe Angst empfinden die Menschen auch bei Geburt von Zwillingen oder behinderten Kindern. Diese wurden der Tradition entsprechend sofort getötet, die Familie aus dem Dorf vertrieben und deren Haus niedergebrannt.