Throne Mandalay Palace#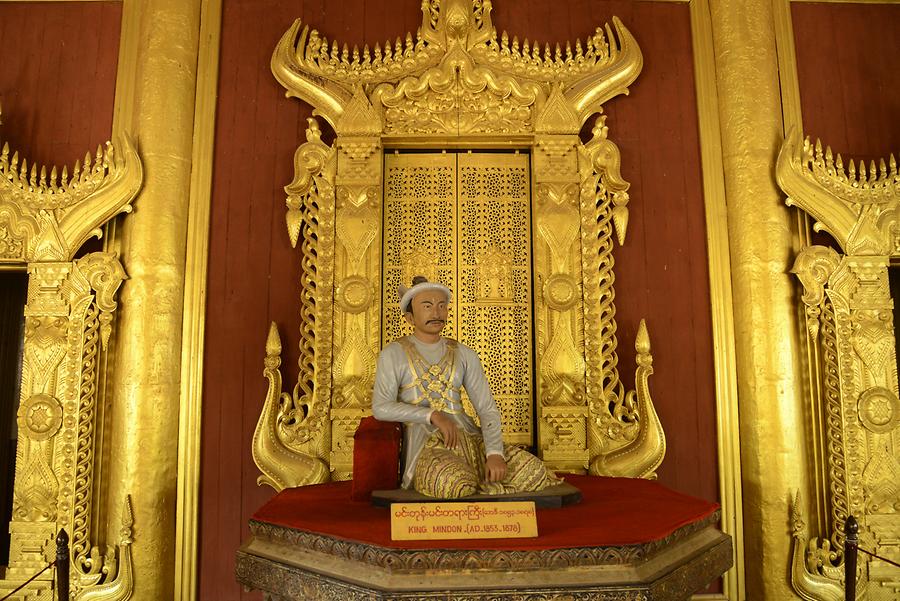 King Mindon and his royal household governed an important empire that had grown rich by trade, agriculture and craftsmanship. Considering splendor and pomp it even exceeded its European counterparts. But the right of succession led to gruesome bloodbaths again and again. Only the eldest son had a right to the throne, so he was often murdered by his younger brothers. But since royal blood could not be spilled, the victim was sewn into a velvet sack and trampled to death by elephants. Loud music was used to drown the screaming of the unfortunate. This act was sometimes repeated so often, until only one brother was left. Most of the time, it was the most ruthless who remained. This led to the downfall of the empire. Mindon's successor Thibaw entered history as a cruel tyrant. Since it was very dangerous to bring him bad news, he wasn't informed about a British ultimatum. As a consequence the colonial power attacked in 1885 and thereby ended the long tradition of Burmese kingdoms.
König Mindon herrschte mit seinem Hofstaat über ein bedeutendes Imperium, reich geworden durch Handel, Landwirtschaft und Handwerkskunst. In Pracht und Glanz-entfaltung übertraf es sogar viele seiner europäischen Gegenstücke. Nur die Nachfolgeregelung führte immer wieder zu grausamen Blutbädern. Weil nur der erstgeborene Sohn ein Anrecht auf den Thron hatte, wurde er von seinen jüngeren Brüdern oftmals ins Jenseits geschickt. Da jedoch kein königliches Blut vergossen werden durfte, packte man das Opfer in seinen samtenen Sack und ließ ihn von Elefanten zertrampeln. Laute Musik übertönte dabei die Schreie des Unglücklichen. Dieses Schauspiel setzte sich oftmals solange fort, bis nur mehr ein Bruder übrigblieb. Meist war es der rücksichtsloseste. Dies führte schließlich zum Untergang des Reiches. Mindons Nachfolger, Thibaw, ging als grausamer Despot in die Geschichte ein. Da es äußerst gefährlich war, ihm schlechte Nachrichten zu überbringen, wurde er auch nicht von einem britischen Ultimatum unterrichtet. In der Folge schritt die Kolonialmacht 1885 zum Angriff und beendete die lange Tradition birmanischer Königreiche.