Salar de Uyuni#
Photos by Max Guzovsky and Oleg Gapoyuk, members of the AirPano Team that is a member of the global-geography Consortium.


28 November 2018

with kind permission of AirPano

The world's largest salt flat is located in Bolivia, at an elevation of 3,650 meters above sea level and is a part of a desert plateau, the Altiplano.

Around 40,000 years ago, this area was a giant prehistoric basin lake, Lake Minchin. The arid environment caused a continuous evaporation and, as a result, an increasing salt concentration. When the water had completely gone, the area of around 10,000 square kilometres turned out to be covered with a 2 to 8 meters thick salt layer!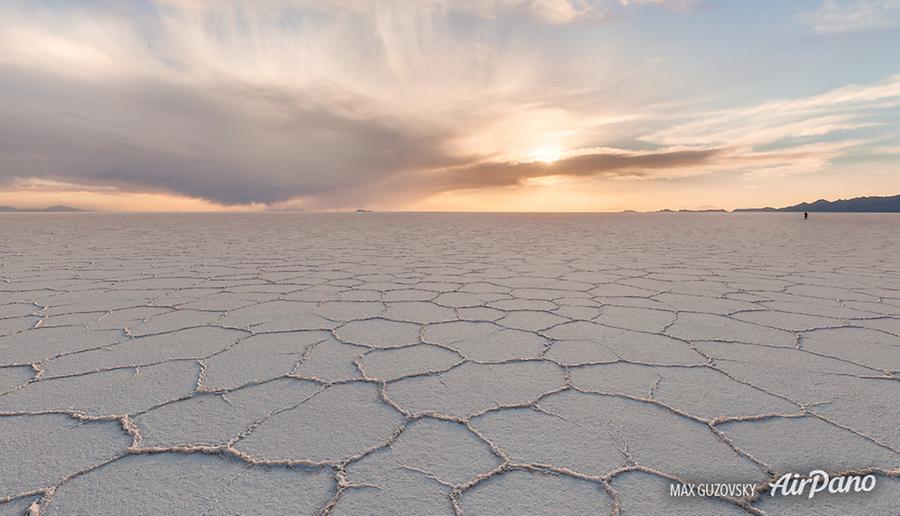 During the wet season, the surface of the salt pan accumulates the water, so that Salar de Uyuni becomes the largest mirror in the world. But the landscapes of Salar de Uyuni can amaze in any season of the year: the endless salt desert together with its cactus-covered islands, the surrounding active volcanoes and geysers seems to be extraterrestrial.
AirPano team has planned for some time to create a complete virtual tour and a 360° video dedicated to this famous salt pan. Until then, we will reveal a small story of how violent the storms in this region can be. The strongest wind lifts the salt together with the externally induced ground so that this colourful mixture moves around the area. Such a sinister and breathtaking scene!