Tafza - Musee Berbere#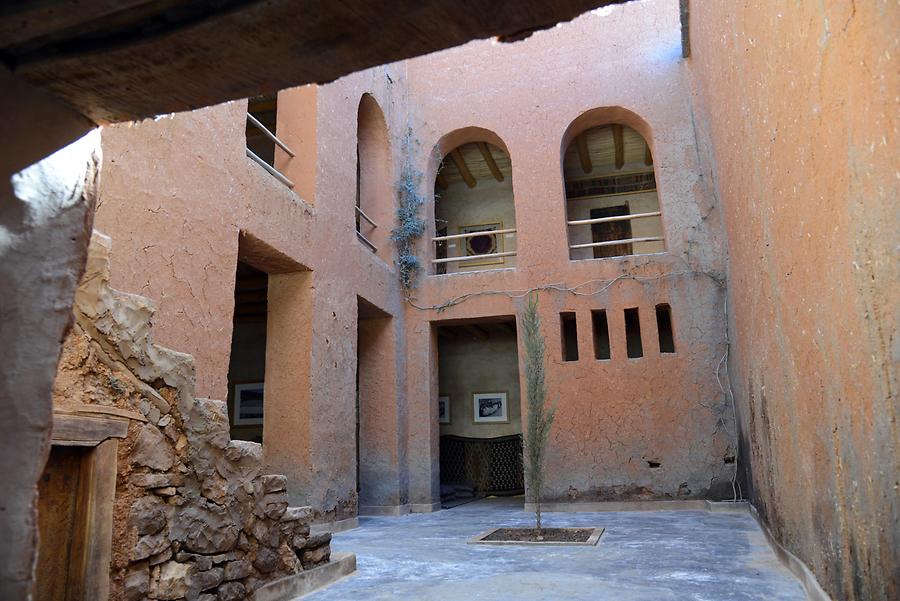 Back to this former residence of a Berber chief. The basic social unit of a Berber tribe is the paternalistically organized extended family. Several patrilineally related families live together as a clan in a ksar, headed by the village elder. The heads of related clans form a council that elects a leader, the tribal chief or 'sheikh'. In the course of time, such offices became hereditary. The origin of the tribe goes back to a common ancestor. Even today there are still about 300 Berber tribes in Morocco. Several times during the country's history a charismatic leader united related tribes giving rise to some of the great ruling dynasties, such as the Almohads or the Merinids, who ruled over the whole of Morocco as powerful sultans. This intricate social structure makes the Berber history a very complex phenomenon. In fact, the community is established by pragmatically oriented cliques that rally around a - more or less random - dominant personality and then dissolve again.
Zurück zur ehemaligen Residenz eines Berberhäuptlings. Die grundlegende Sozialeinheit der Berberstämme bildet die patriarchalisch angeführte Großfamilie. Mehrere in männlicher Linie verwandte Familien leben als Sippe in einem ksar zusammen, angeführt vom Dorfältesten. Die Vorsteher verwandter Sippen bilden eine Ratsversammlung, die einen Anführer wählt, den Stammeshäuptling oder Scheich. Im Laufe der Zeit wurden solche Ämter erblich. Der Ursprung des Stammes geht auf einen gemeinsamen Urahn zurück. Noch heute existieren etwa 300 Berberstämme in Marokko. Mehrmals während der Geschichte des Landes einte ein charismatischer Führer verwandte Stämme. Daraus entstanden die großen Herrscherdynastien wie die Almohaden oder die Meriniden, die als mächtige Sultane über ganz Marokko herrschten. Diese verschachtelte Gesellschaftsstruktur macht die Geschichte der Berber zu einem sehr komplexen Phänomen. Tatsächlich baut sich die Gemeinschaft aus pragmatisch orientieren Cliquen auf, die sich um eine mehr oder weniger zufällig auftretende dominante Persönlichkeit sammeln und auch wieder auflösen.