Tafza#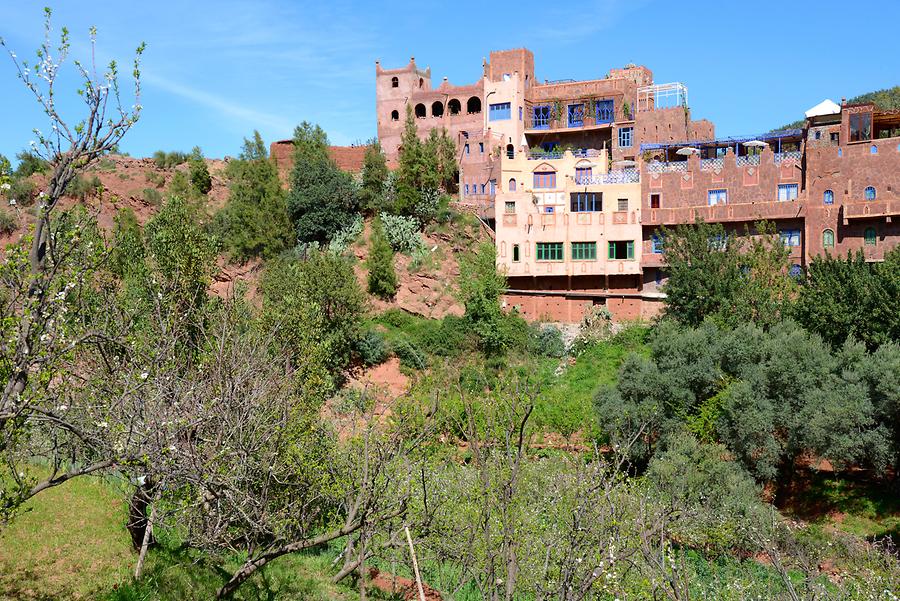 In the small mountain village of Tafza
30.2256166,-8.0952716
, a Berber museum in a former ruler's residence provides insight into the lived_in world of the locals. Time to memorize a few typical terms that the traveller to Moroccan often comes across: 'Ksar' means a fortified village made of rammed earth in the pre-Saharan area, which is located in the middle or on the edge of an oasis and is often protected against invaders by walls and towers. In a 'ksour' there are often Kasbahs, also fortified residences of local princes or private homes of family clans. A 'Funduq' is a lodging house for travellers, while 'riads' are palatial homes of nobles or wealthy merchants which are now often converted into atmospheric guesthouses. Wellness in the Arabic style is offered by hammams, public bathhouses. The omnipresent street markets in Morocco's old towns, the Medinas, are called 'suqs', while the Islamic schools are called 'madrasas'. With the grave for a marabout, an Islamic religious teacher, the 101 of Moroccan terms is complete.
Im kleinen Bergdorf Tafza
30.2256166,-8.0952716
gewährt ein Berbermuseum in einer einstigen Fürsten-Residenz Einblicke in die Lebenswelt der Einheimischen. Zeit, sich ein paar typische Begriffe einzuprägen, die dem Marokko-Reisenden immer wieder begegnen: Als 'ksar' bezeichnet man befestigte Stampflehmdörfer in der Vorsahara, die in der Mitte oder am Rand von Oasen liegen und oftmals durch Mauern und Wehrtürme vor Angreifern geschützt sind. In den 'ksour' liegen oftmals Kasbahs, ebenfalls befestigte Residenzen lokaler Fürsten oder private Wohnhäuser von Familienclans. Unter 'funduq' versteht man eine Herberge für Reisende, während 'Riads' palastähnliche Anwesen von Adeligen oder reichen Kaufleuten waren, die heute oftmals zu stimmungsvollen Gästehäusern umgebaut werden. Wellness auf arabisch bieten Hamams, die öffentlichen Badehäuser. Die allgegenwärtigen Strassenmärkte in Marokkos Altstädten, den Medinas, heißen Suqs, während Medresen Koranschulen bezeichnen. Mit dem Grab für einen marabout, einem islamischen Heiligen, ist das 1x1 marokkanischer Begriffe komplett.