Marrakech - Saadian Tombs#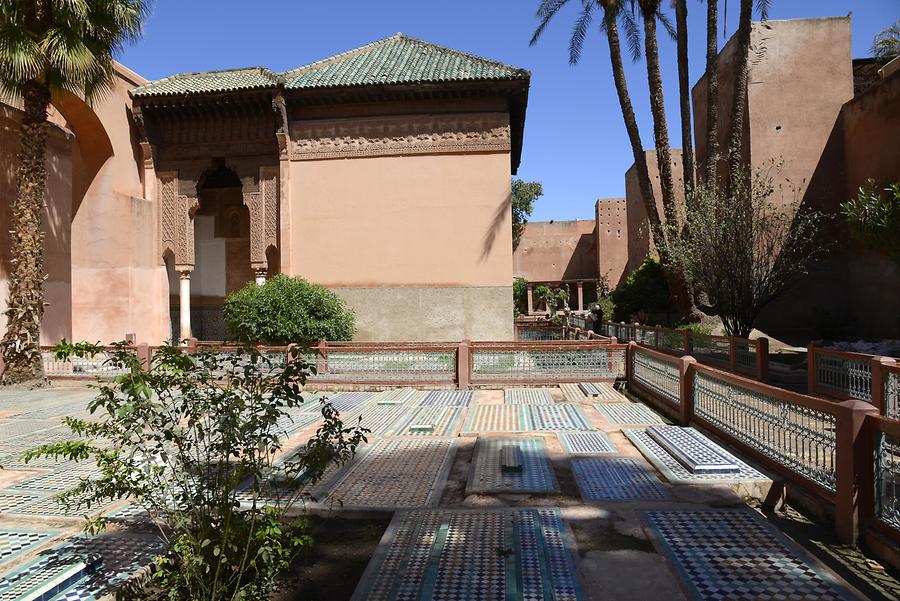 ... Saadian Tombs Moulay Ismail did not dare to destroy. However, he had them walled up so that they were only accidentally rediscovered in 1917. In the two mausoleums made of the finest Carrara marble, seven Saadian sultans and 62 family members were laid to rest. With good reason, the hall with 12 columns is considered a masterpiece of Moorish architecture. Coloured mosaics in combination with stucco-framed inscription friezes and intricate arabesques create a décor of filigree beauty with an almost meditative effect. Originally the stalactite stucco ornaments were decorated with pure gold to give the mausoleum its adequate grandeur.
... Saadiergräber, deren Zerstörung Moulay Ismail nicht wagte. Er ließ sie jedoch zumauern, sodass sie erst 1917 zufällig wiederentdeckt wurden. In den beiden Mausoleen aus feinstem Carrara-Marmor fanden sieben Saadiersultane und 62 Familienmitglieder ihre letzte Ruhestätte. Der Saal der 12 Säulen gilt zurecht als Meisterwerk der maurischen Architektur. Farbige Mosaike fügen sich mit in Stuck gearbeitete Inschriftenfriesen und verschlungenen Arabesken zu einem Dekor filigraner Schönheit, von dem eine nahezu meditative Wirkung ausgeht. Ursprünglich waren die stalaktitenförmigen Stuckornamente mit reinem Gold verziert, um dem Mausoleum die entsprechende Erhabenheit zu verleihen.