Meknes - Mausoleum of Moulay Ismail#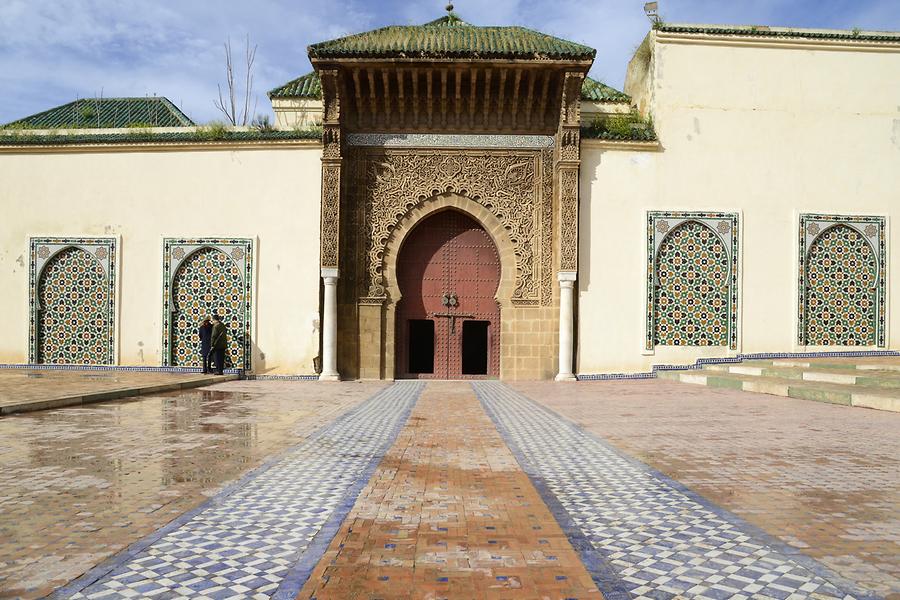 The final resting place for Morocco's most cruel ruler is among the masterpieces of Moroccan craftsmanship. The mausoleum of Moulay Ismail impresses with its incredibly delicate interior design, which hides behind simple front courts. Here again a basic characteristic of Islamic architecture is demonstrated: modest understatement on the surface - but the more pompous the furnishings in the private interior.
Zu den Meisterwerken marokkanischer Handwerkskunst zählt die letzte Ruhestätte für Marokkos grausamsten Herrscher. Das Mausoleum des Moulay Ismail beeindruckt durch seine ungemein filigrane Innenarchitektur, die sich hinter schlichten Vorhöfen verbirgt. Hier zeigt sich wieder ein Grundcharakteristikum islamischer Architektur: bescheidenes Understatement nach außen – dafür umso prunkvollere Ausstattung im inneren, privaten Bereich.