Bull-jumping Ceremony - Dance#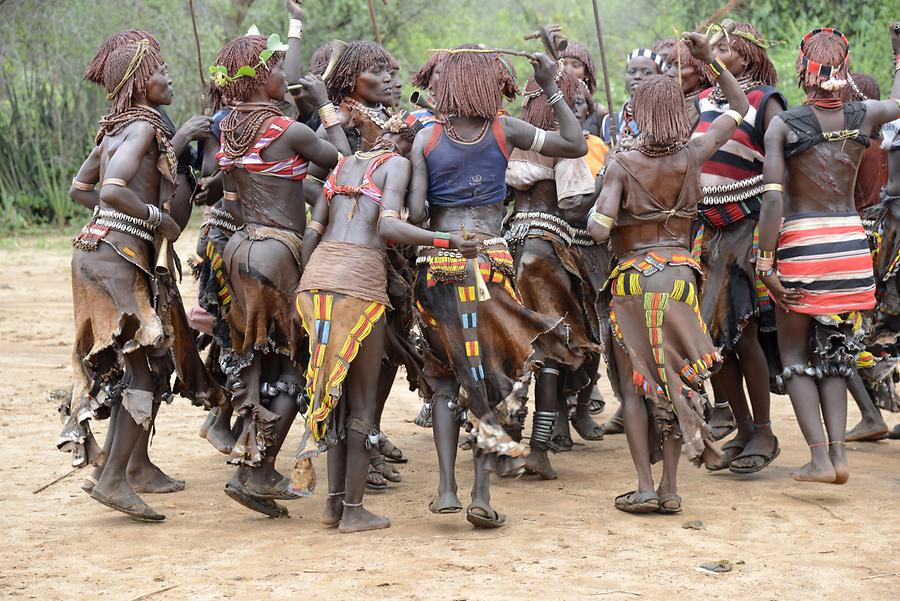 At the bull-jumping ceremony, an initiation rite of the Hamar turning boys into men, plenty of blood is shed. The ritual starts with the whipping of the candidate's female relatives by bachelors, who are already over the initiation rite. For several hours the women incite the men, as a sign of their affection, again and again to continue the whipping. The resulting scars are proudly presented as trophies. These ceremonies of looking for a wife later on assure the woman the unconditional support of the man after she proved what she was willing to do for him. Neither men nor women want to do without this painful ritual.
Beim Bullensprung-Initiationsritus der Hamar, der Jungen zu Männern macht, fließt reichlich Blut. Das Ritual beginnt mit dem Auspeitschen der weiblichen Verwandten des Kandidaten durch Junggesellen, die die Initiation bereits hinter sich haben. Über mehrere Stunden animieren die Frauen als Zeichen ihrer Zuneigung die Männer immer wieder zu weiteren Peitschenhieben. Die dabei entstehenden Narben werden als Trophäen stolz präsentiert. Diese Brautschau-Zeremonie sichern der Frau später die bedingungslose Unterstützung des Mannes zu, nachdem sie bewiesen hat, was sie für ihn zu tun bereit war. Weder Männer noch Frauen möchten auf dieses schmerzhafte Ritual verzichten.