Mursi Woman with Lip Plate#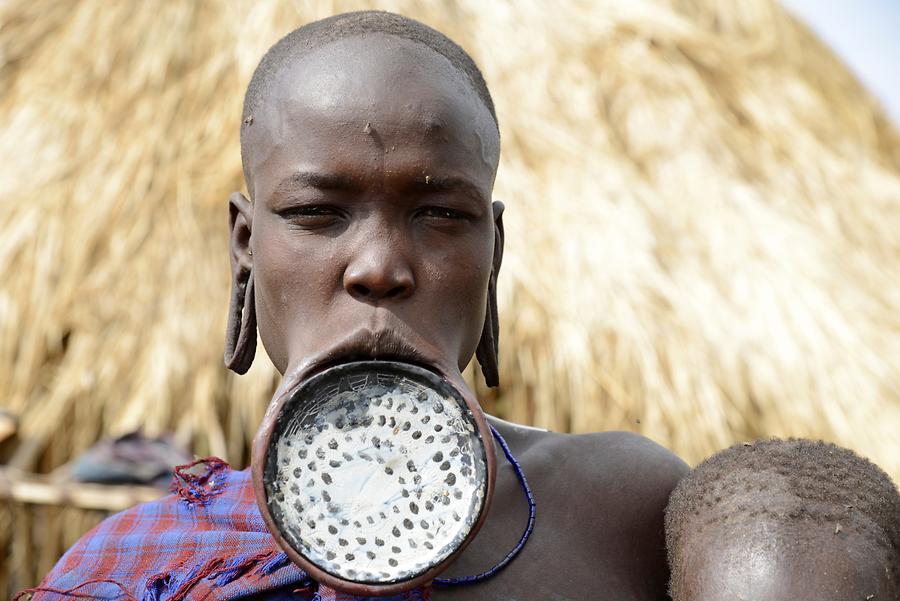 Adult women can be recognized by their lip plates. The diameter should be at least 12 cm, better still 20 cm. The bride price is going up with every centimetre. At the latest at the age of 15 the mother pierces the lower lip of her daughter, which is gradually stretched by the insertion of increasing sticks. Before the first plate is used, the lower incisor teeth are removed as they would otherwise press against the plate. Thus the girl becomes a woman and reaches the marital age. From now on, she can remove the lip plate only at home and at dinner. The origin of this tradition remains untold. Possibly, the peculiar beauty ideal once served as a protective shield against evil spirits, but not even the Mursi themselves know the exact meaning anymore. Tradition remains tradition. The peoples of South Ethiopia look at history merely as a constant renewal of the existing order. They have no interest in actual innovations - and therefore, things will stay as they were. Whether they can survive with these ideas in a globalized world may be questioned, because already now sugar cane plantations and projects for power plants threaten the habitat of the Omo peoples.
Erwachsene Frauen erkennt man an ihren Lippentellern. Mindestens 12 cm sollte der Durchmesser betragen, besser aber 20 cm. Mit jedem Zentimeter steigt der Brautpreis. Spätestens im Alter von 15 Jahren durchsticht die Mutter ihrer Tochter die Unterlippe, die durch Einsetzen von immer größeren Stöcken schrittweise gedehnt wird. Bevor der erste Teller zum Einsatz kommt, werden die unteren Schneidezähne entfernt, da sie sonst gegen die Platte drücken würden. Damit wird das Mädchen zur Frau und erreicht das Heiratsalter. Nur zu Hause und beim Essen darf sie ab nun den Lippenteller ablegen. Der Ursprung dieser Tradition verliert sich im Dunkel der Geschichte. Möglicherweise diente das eigenartige Schönheitsideal einst als Schutzschild vor bösen Geistern, aber nicht einmal die Mursi selbst wissen um die genaue Bedeutung. Doch Tradition bleibt Tradition. Die Völker Südäthiopiens sehen Geschichte bloß als ständige Erneuerung des Bestehenden. An tatsächlichen Innovationen haben sie kein Interesse – also bleibt alles, wie es immer schon war. Ob man mit diesen Vorstellungen in einer globalisierten Welt überleben kann, darf bezweifelt werden, denn schon bedrohen Zuckerrohrplantagen und Kraftwerksprojekte den Lebensraum der Omo-Völker.