Bete Giyorgis - Wedding Music-Band#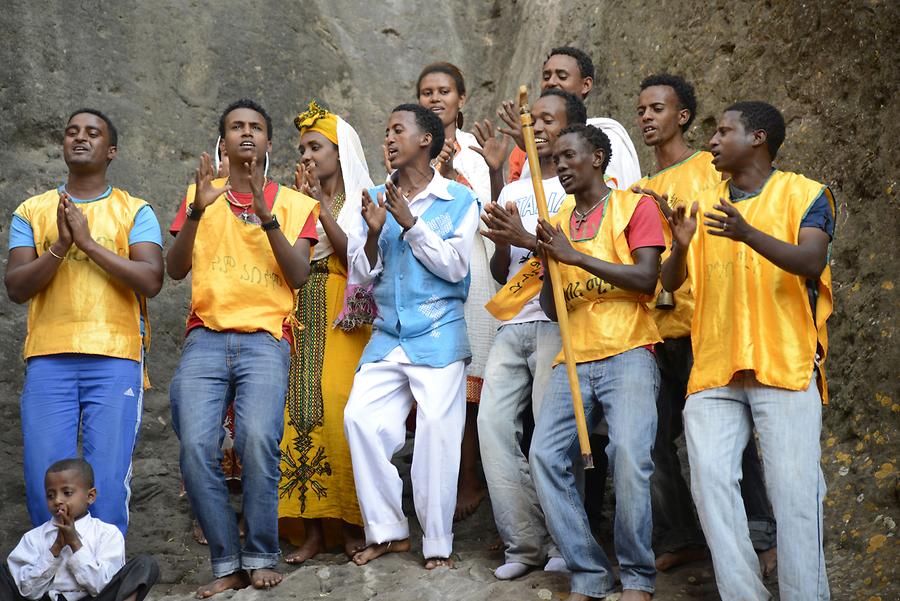 The upcoming Christmas festival tempt many bridal couples to come to Lalibela. Easily recognizable they belong to the Ethiopian upper class. Although polygamy exists, the singular marriage dominates, which is arranged already in childhood by the parents according to economic considerations. The contraction of marriage is usually a purely civilian act, which is, however, celebrated in state. Young men often run into debts desperately for many years to meet the common wedding standards. Added to this, the future bridal couples hear on every occasion the popular Ethiopian proverb: 'Eat before you raise children yourselves.'.
Das bevorstehende Weihnachtsfest lockt viele Hochzeitspaare nach Lalibela. Unschwer zu erkennen, dass sie wohl der äthiopischen Oberschicht angehören. Obwohl Polygamie existiert, herrscht die Einehe vor, die schon im Kindesalter von den Eltern nach wirtschaftlichen Gesichtspunkten vereinbart wird. Die Eheschließung ist meist ein rein ziviler Akt, der jedoch aufwändig gefeiert wird. Junge Männer verschulden sich oftmals hoffnungslos für viele Jahre, um den gebräuchlichen Hochzeitsstandards gerecht zu werden. Zu all dem hören die künftigen Brautpaare immer wieder ein beliebtes äthiopisches Sprichwort: 'Esst, bevor ihr selbst Kinder bekommt.'.