Ura Kidane Meret Church#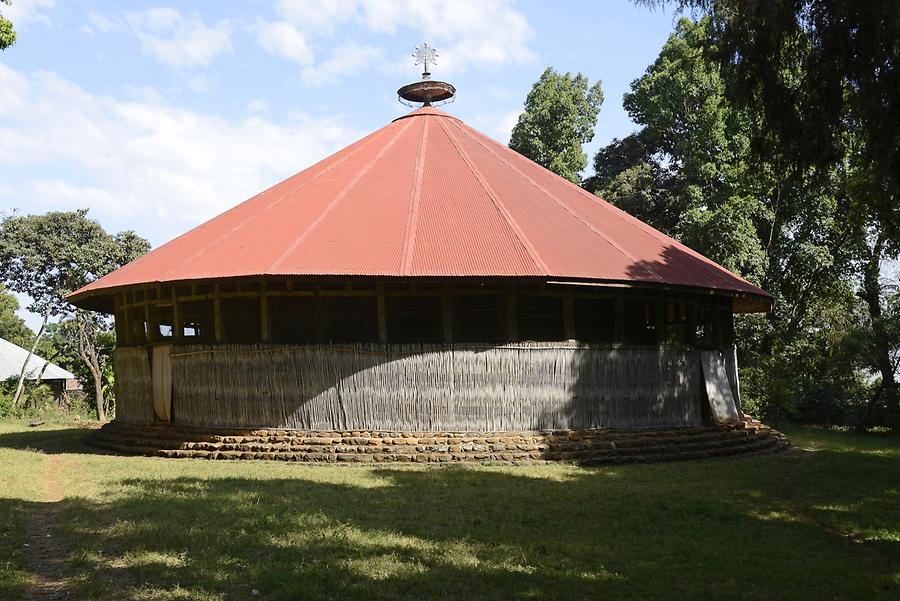 Similar to the African round huts, the churches show a circular structure. The exterior colonnade is open to the outside and lined with 12 pillars symbolizing the apostles. Here the services take place. Inside the church is another colonnade. The centre is formed by a cubic room with the sanctum, the copy of the Tablets of the Law of Moses. It is not accessible for the ordinary mortals, only for priests. The walls are decorated with impressive frescoes, a sort of biblical picture-book for illiterate believers. Despite their age of up to four hundred years, the never restored works of art have lost nothing of their luminosity. They also tell of many wars of religious in merciless detail. Good and evil can be easily distinguished. The 'good' ones, of course all Christians, are represented frontally with both eyes, while the evil disbelievers have to manage with only one eye in profile.
Ähnlich den afrikanischen Rundhütten zeigen die Kirchen einen kreisförmigen Aufbau. Der äußere Wandelgang ist nach außen offen und von 12 Säulen gesäumt, die die Apostel symbolisieren. Hier finden die Gottesdienste statt. Im Inneren der Kirche schließt ein weiterer Rundgang an. Das Zentrum bildet ein kubische Raum mit dem Allerheiligsten, der Kopie der Gesetzestafeln des Moses. Er bleibt den Normalsterblichen verschlossen. Nur Priester haben Zutritt. Die Wände sind mit beeindruckenden Fresken geschmückt, eine Art biblisches Bilderbuch für die des Lesens und Schreibens unkundigen Gläubigen. Trotz ihres Alters von bis zu vierhundert Jahren haben die niemals restaurierten Kunstwerke nichts von ihrer Leuchtkraft verloren. Sie erzählen in schonungsloser Detailgenauigkeit auch von zahlreichen Religionskriegen. Gut und Böse lassen sich leicht unterscheiden. Die 'Guten', natürlich allesamt Christen, sind frontal mit beiden Augen dargestellt, während die bösen Ungläubigen im Profil mit nur einem Auge auskommen müssen.