The Legend of the Queen of Sheba#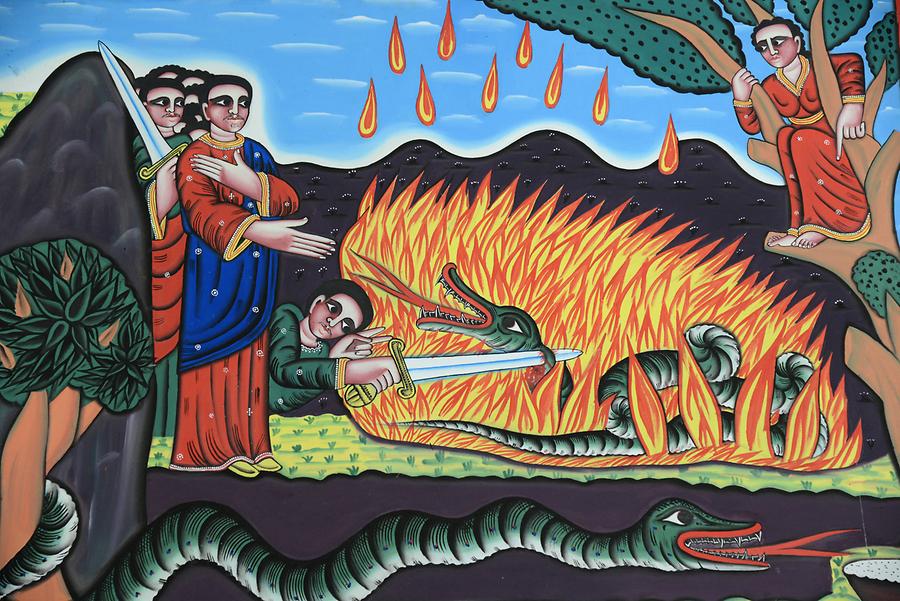 It times immemorial, a dragon ruled the country from Axum. He demanded 10 cows, 10 bulls, 100 sheep and 1000 goats daily as food. Legend has it that a farmer named Angabo agreed to free the land from the monster, if he was chosen king after that. He was assured of this gladly, for a peasant as a king could not be worse than the dragon. Angabo employed an ingenious ruse. With a goat which had eaten poisoned food, he started for the dragon, who devoured it and died having terrible convulsions. Angabo was chosen king. Soon after, his wife gave birth to a daughter who, known as Makeda, succeeded her father and was famous for her beauty. Makeda became the legendary Queen of Sheba, already described in the Bible as the epitome of a seductive ruler.
Es war vor langer Zeit, als ein Drache von Axum aus das Land beherrschte. Er verlangte täglich 10 Kühe, 10 Stiere, 100 Schafe und 1000 Ziegen als Nahrung. Die Legende will es, dass ein Bauer namens Angabo sich bereit erklärte, das Land vom Ungeheuer zu befreien, wenn er danach zum König gewählt würde. Das sicherte man ihm gerne zu, denn schlimmer als der Drache konnte auch ein Bauer als König nicht sein. Angabo wandte eine geschickte List an. Mit einer Ziege, die vergiftetes Futter gefressen hatte, begab er sich zum Drachen, der sie gierig verschlang und unter entsetzlichen Zuckungen verendete. Angabo wurde zum König gewählt. Bald darauf schenkte ihm seine Frau eine Tochter, die unter dem Namen Makeda die Nachfolge ihres Vaters antrat und wegen ihrer Schönheit überall berühmt war. Makeda wurde zur legendären Königin von Saba, die schon in der Bibel als der Inbegriff für die verführerische Herrscherin beschrieben wird.