Simien Mountains - Baobab#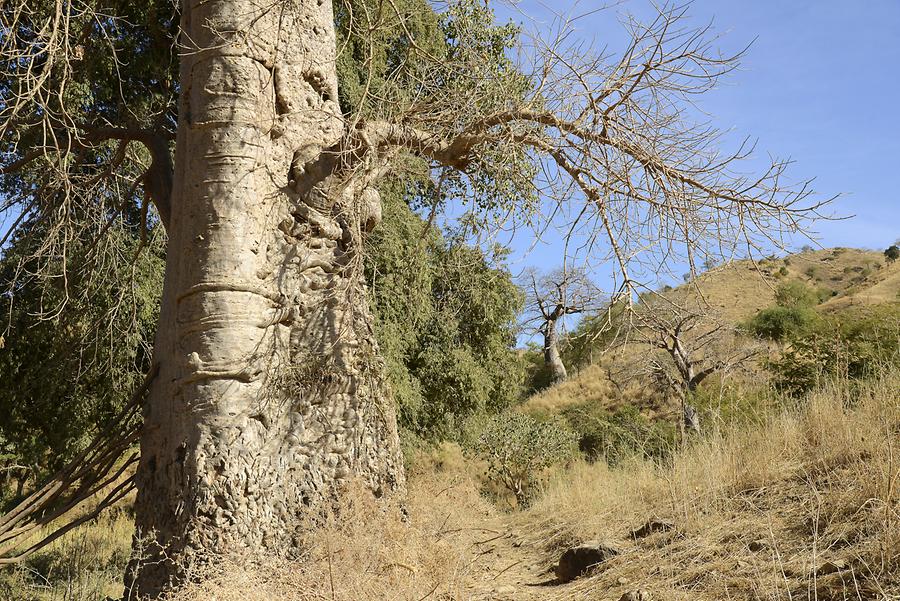 Huge baobabs line the road. They store up to 120,000 l of water, reach a stem diameter of 9 m, but they grow only 2.5 mm per year. This means that they become very old, between 1000 and 2000 years. Their unusual shape is explained by a legend: When at the beginning of the world the hyena recognized its own ugliness when looking into the reflecting water, it was very angry about it. She tore out a baobab and hurled it heavenwards to hit its creator. The tree, however, missed its target, fell back to the earth, got stuck upside down in the ground and has since grown with its roots upwards.
Riesige Affenbrotbäume säumen die Strasse. Die Baobabs speichern bis zu 120.000 l Wasser, erreichen einen Stammdurchmesser von 9 m, wachsen jedoch nur 2,5 mm im Jahr. Das bedeutet, dass sie sehr alt werden, zwischen 1000 und 2000 Jahre. Ihre ungewöhnliche Form erklärt eine Legende: Als am Anbeginn der Welt die Hyäne beim Blick ins spiegelnde Wasser ihre eigene Hässlichkeit erkannte, war sie darüber sehr erzürnt. Sie riss einen Baobab aus und schleuderte ihn gen Himmel, um ihren Schöpfer zu treffen. Der Baum jedoch verfehlte sein Ziel, stürzte zurück zur Erde, blieb dort umgekehrt im Boden stecken und wächst seither mit den Wurzeln nach oben.