Northern Stelae Park#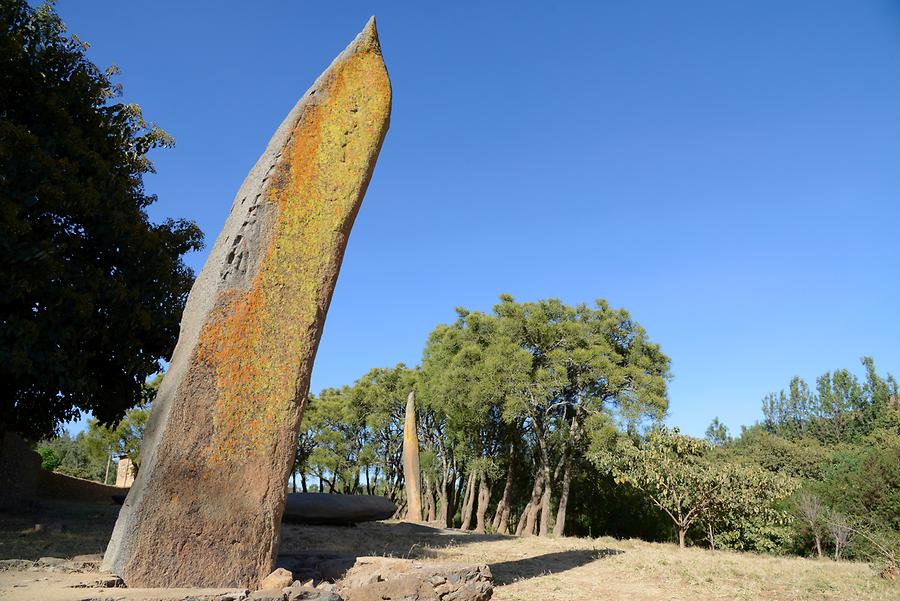 Axum's architecture reaches its climax in the large stelae park. It is quasi the emblem of Ethiopian culture. Finely detailed, the oversized tombstones symbolize high-rise buildings with an entrance door at the base followed by floor above floor and crowned by shield-shaped units, into which metal plates had been layed in initially. It is possible that they once showed an emblem of the solar disk and the crescent moon below underneath it.
Axums Architektur erreicht im großen Stelenpark seinen Höhepunkt. Er gilt gleichsam als Wahrzeichen der äthiopischen Kultur. Fein bearbeitet symbolisieren die überdimensionalen Grabsteine Hochhäuser mit einer Eingangstür an der Basis. Darüber reiht sich Stockwerk über Stockwerk, gekrönt von schildförmigen Aufsätzen, in die ursprünglich Metallplatten eingelassen waren. Möglicherweise zeigten sie ein Emblem der Sonnenscheibe mit darunter liegender Mondsichel.