Alignements du Menec#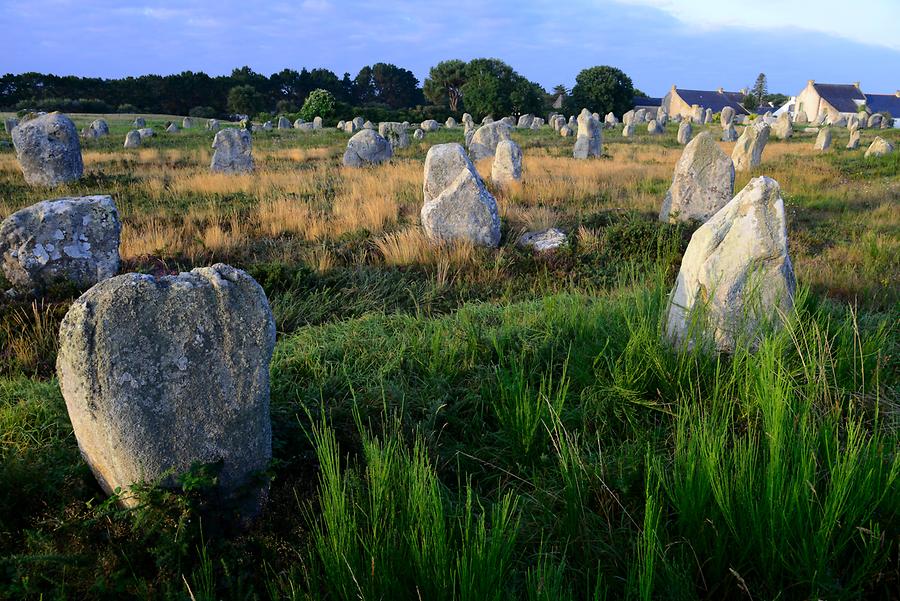 Recently researchers made an even more surprising discovery on the basis of genetic and blood tests. Wherever there are dolmens, menhirs and other megalithic monuments - from Malta via Western Europe to North Scotland - many of the present inhabitants have Basque genes in their cells. For example, Irish and Welsh are more closely related with the Basques than with other Europeans. Were the Basques these mysterious megalithic culture that covered half of Europe already 6000 years ago? Are they the true builders of Stonehenge and Carnac? At least one thing is certain: the Basques may refer to themseslves as "Proto-Europeans". Some anthropologists even suspect that three quarters of all Europeans are descended directly or indirectly from the Basques.
Jüngst machten Forscher aufgrund von Gen- und Blutanalysen eine noch überraschendere Entdeckung. Überall dort, wo Dolmen, Menhire und andere megalithische Bauwerke stehen –also von Malta über Westeuropa bis Nord-Schottland – haben viele der heutigen Bewohner baskische Gene in ihren Zellen. Beispielsweise sind Iren und Waliser mit den Basken enger verwandt als mit anderen Europäern. Waren die Basken gar jene rätselhaften Megalithiker, die halb Europa schon vor 6000 Jahren mit einer sagenhaften Kultur überzogen? Sind sie die wahren Baumeister von Stonehenge und Carnac ? Eines jedenfalls steht fest: die Basken dürfen sich tatsächlich als die "Ur-Europäer" bezeichnen. Manche Anthropologen vermuten sogar, dass drei Viertel aller Europäer direkt oder indirekt von den Basken abstammen.