Flysch Coast Zumaia#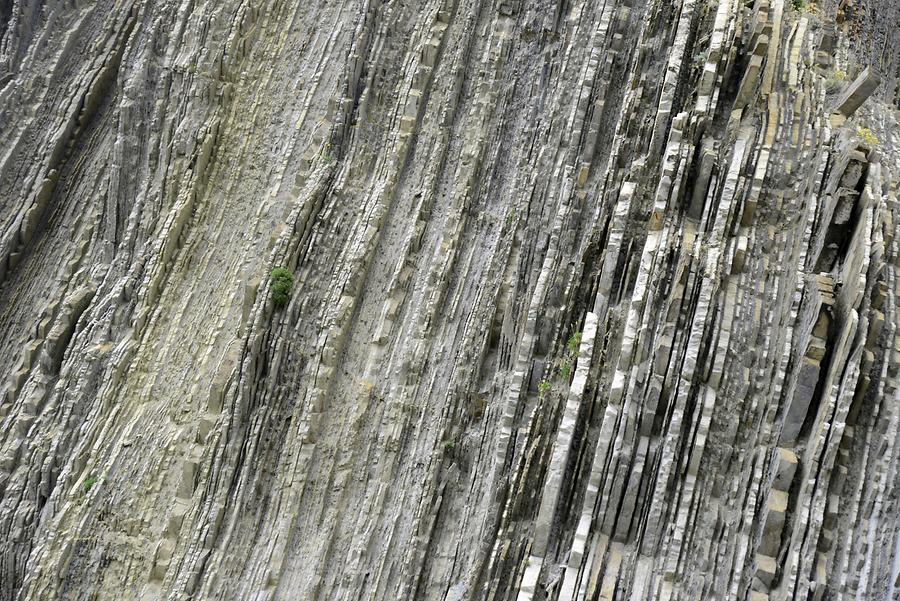 The bizarre coastlines were formed below the surface of the sea. During orogeny debris avalanches broke away frequently and were deposited on the continental shelf. In the course of millennia a clay layer developed before the next avalanche came leaving an "Ildefonso"-pattern with layers of clay and rock, a so-called "flysch". Geological heaving and upfolding processes formed these layers into wavelike patterns and transported them to the surface. Geologists read them like a book and gain knowledge about 50 million years of geological history.
Die bizarren Küstenabschnitte bildeten sich unter der Meeresoberfläche. Während der Gebirgsbildung lösten sich immer wieder Gesteinslawinen, die sich am Kontinentalschelf ablagerten. Darüber entstand im Laufe von Jahrtausenden eine Tonschicht, bevor die nächste Lawine kam. Zurück blieb ein Ildefonso-Muster mit Schichten aus Ton und Gestein, ein sogenannter "Flysch". Geologische Hebungs- und Auffaltungsprozesse formten diese Schichten zu wellenartigen Mustern und beförderten sie an die Oberfläche. Darin lesen Geologen wie in einem Buch und gewinnen Erkenntnisse über 50 Mio. Jahre Erdgeschichte.