Bosque Animado de Oma#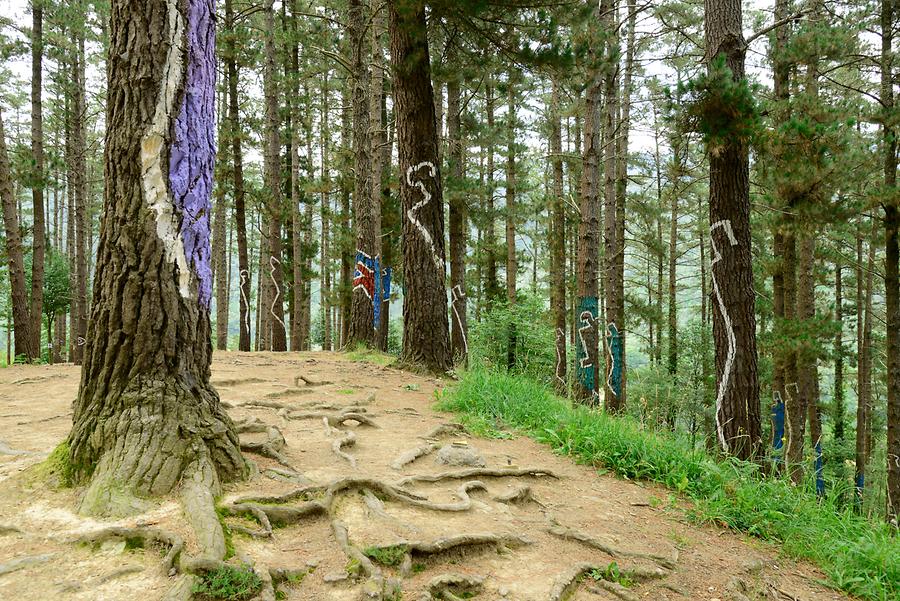 After an hour's hike through the green paradise the character of the forest suddenly changes. It becomes unusually colorful. Here, in 1987, Augustin Ibarrola, a Basque painter, created a place of mysterious magic. On 500 trees you find signs, stripes and geometric patterns to encourage the viewer to contemplate and to change his perspective. Ibarrola wanted art and nature to communicate in a new way.
Nach einer guten Stunde Wanderung durch das grüne Paradies ändert sich plötzlich der Charakter des Waldes. Er wird ungewöhnlich bunt. Augustin Ibarrola, ein baskischer Maler, schuf hier 1987 einen Ort von geheimnisvoller Magie. Auf 500 Bäumen finden sich Zeichen, Streifen und geometrische Muster, die den Betrachter zum Nachdenken und zum Perspektivenwechsel anregen sollen. Ibarrola wollte Kunst und Natur auf neue Weise kommunizieren lassen.