Mérida - Religious Parade#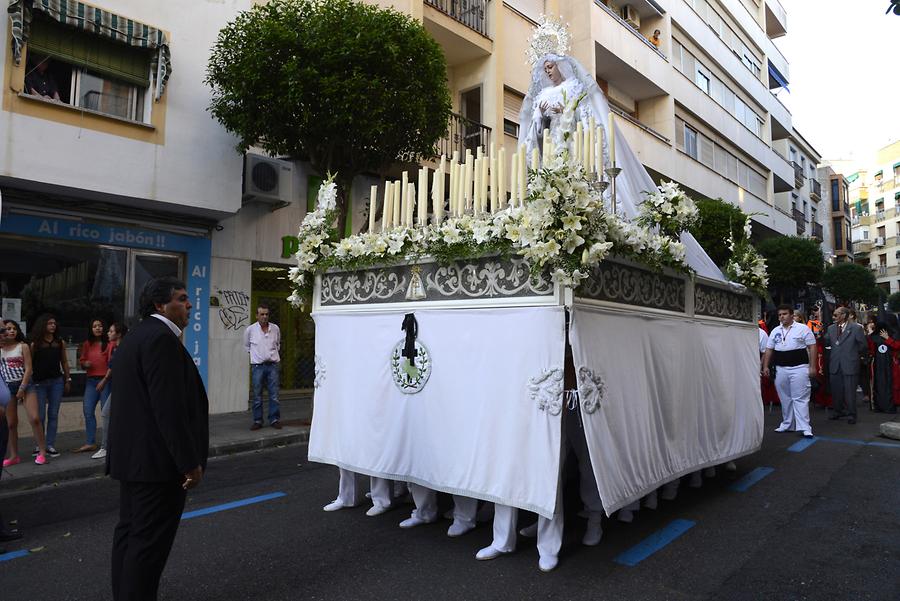 Back in Mérida, the spectators are already watching for an evening show of a special kind, because during the Semana Santa, the Easter week, the cities of Extremadura are in an exceptional state. In the late afternoon and during the night, one procession after the other passes by. Passion scenes carved in wood and the dressed up Mother of God are carried through the streets of the city on bearer frames weighing tons, reproducing the sufferings of Christ. The spectacle has taken place since the 15th century. Behind it lies a clever marketing concept of ​​the Catholic Church: After the Reconquista, heresy and misconceptions increased to such an extent that the Fathers of the Church had to come up with an idea: Inquisition was invented. Then Protestantism came up, too. The clerics loyal to the pope reacted to the new challenges with an effective staging of faith. Now, the streets were used as a stage for religious messages involving the people into the immediate process. Processions, organized by religious brotherhoods, provided a lasting internalization also for the illiterate people. And they counted on the classical Christian means of education: fear, suffering and threat. Gloomy, with sad dirges, torches in their hands, and hoods over their faces, the penitents walk through the streets. They often walk barefoot, they carry long robes and are masked with the typical penitential hood, which serves the anonymity of the act of repentance. The church thus demonstrates unmistakeably for all people what happens if the believers stray from the right, i.e. Christian path.
Wieder zurück in Mérida warten Zuschauer bereits auf ein abendliches Schauspiel der besonderen Art, denn während der Semana Santa, der Osterwoche, herrscht Ausnahmezustand in den Städten der Extremadura. Spätnachmittags und nachts reiht sich eine Prozession hinter die andere. In Holz geschnitzte Passionsszenen und die festlich gekleidete Mutter Gottes werden auf tonnenschweren Gestellen mühsam durch die Straßen der Stadt getragen und zeichnen den Leidensweg Christi nach. Seit dem 15. Jahrhundert findet das Spektakel statt. Dahinter steht eine geschickte Marketingidee der katholischen Kirche. Nach der Reconquista nahmen Ketzerei und Irrglauben nämlich in so hohem Maße zu, dass sich die Kirchenväter etwas einfallen lassen mussten. Man erfand die Inquisition. Dann kam auch noch der Protestantismus auf. Die papsttreuen Kleriker reagierten auf die neuen Herausforderungen mit einer effektvollen Inszenierung des Glaubens. Als Bühne für religiöse Botschaften dienten nun die Straßen, um die Bevölkerung ins unmittelbare Geschehen einzubeziehen. Prozessionen, organisiert von religiösen Bruderschaften, sorgten auch beim leseunkundigen Volk für eine nachhaltige Verinnerlichung. Gesetzt hat man dabei auf die altbewährten christlichen Erziehungsmittel: Angst, Leid und Drohung. Düster, mit traurigen Klagegesängen, Fackeln in den Händen und Kapuzen über dem Gesicht schreiten die Büßer durch die Gassen. Sie gehen oft barfuß, tragen lange Kutten und sind mit der typischen Spitzhaube maskiert, was der Anonymität des Bußakts dient. Die Kirche demonstriert damit für alle verständlich, was passiert, wenn die Schäflein vom rechten, d.h. christlichen Weg abkommen.