Guggenheim Museum#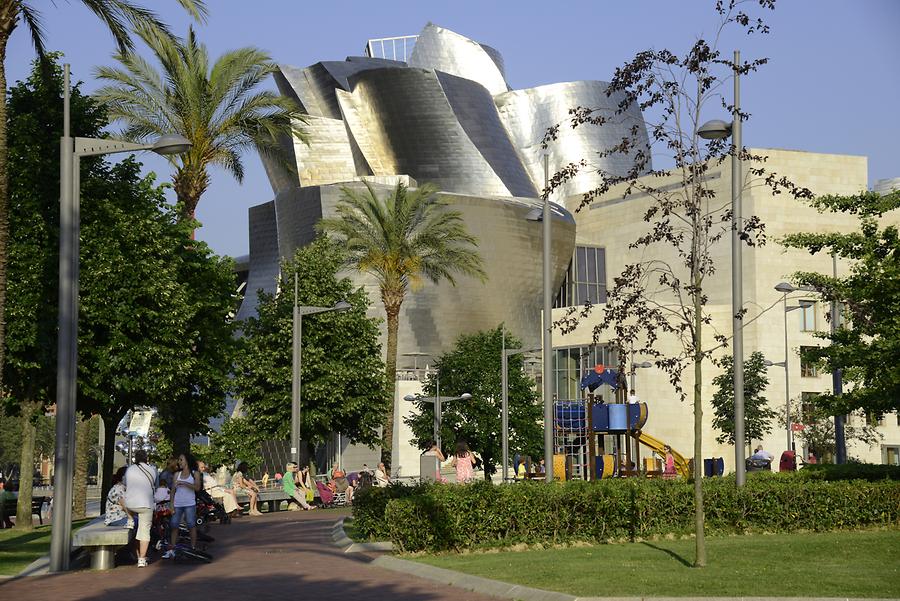 The Guggenheim Museum Bilbao vaulted the triste city of Bilbao
Spain, Bilbao
almost overnight into the league of European art metropolises. A newspaper called this titan gigantic ship, shimmering silvery, blue or golden depending on the incidence of light "a calculated chaos of angles and waves". The famous Canadian architect Frank Gehry designed the daring construction. Inside a 60 m high atrium welcomes the amazed visitor. It leads on to 19 exhibition halls. Only the museum's most profound wish remained so far denied, namely to bring Picasso's "Guernica" from Madrid to Bilbao.
Das Guggenheim Museum katapultierte das triste Bilbao
Spanien, Bilbao
gleichsam über Nacht in die Liga europäischer Kunstmetropolen. "Ein kalkuliertes Chaos aus Winkeln und Wogen" nannte eine Zeitung das je nach Lichteinfall silbrig, blau oder golden schimmernde Riesenschiff aus Titanium. Der kanadische Stararchitekt Frank Gehry konzipierte den gewagten Bau. Im Inneren begrüßt ein 60 m hohes Atrium den staunenden Besucher. Es führt zu 19 Ausstellungssälen. Nur der sehnlichste Wunsch blieb dem Museum bislang verwehrt, nämlich Picassos "Guernica" aus einem Madrider Kunstmuseum nach Bilbao zu holen.