Guggenheim Museum#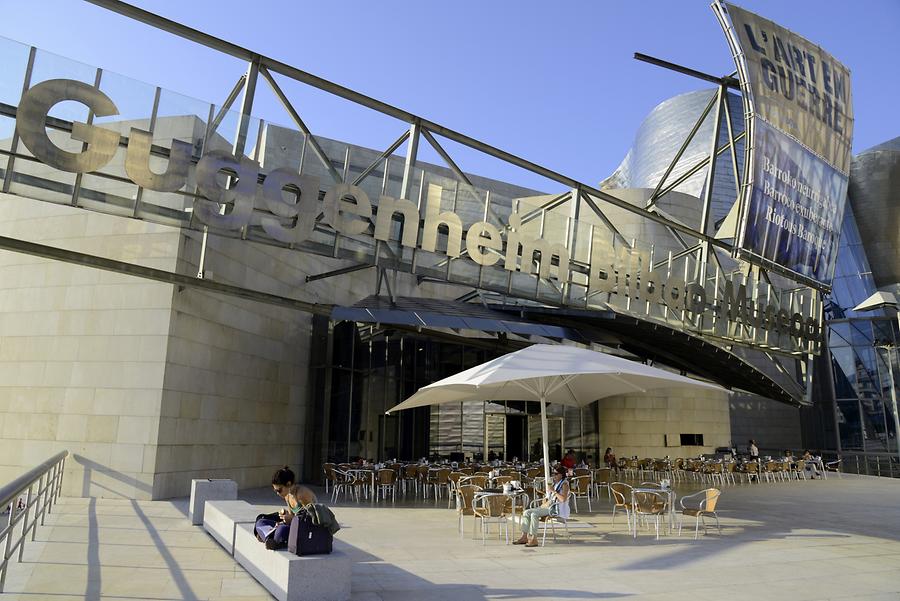 In the recent history of Bilbao the year of 1997 marks an important turning point. With the opening of the Guggenheim Museum, the city got rid of its dull image and reinvented itself. Even the nicely made up historic city flourished. Cafes, restaurants and delis enjoy an increasing number of visitors. Meanwhile Bilbao is even regarded as the touristic top seller of the Basque Country.
The Guggenheim Museum Bilbao is a museum of modern and contemporary art, designed by Canadian-American architect Frank Gehry.The museum was inaugurated on October 18, 1997, by former King Juan Carlos I of Spain. Built alongside the Nervion River, which runs through the city, it is one of several museums belonging to the Solomon R. Guggenheim Foundation and features permanent and visiting exhibits of works by Spanish and international artists. It is one of the largest museums in Spain.
One of the most admired works of contemporary architecture, the building has been hailed as a "signal moment in the architectural culture", because it represents "one of those rare moments when critics, academics, and the general public were all completely united about something."
In der jüngeren Geschichte Bilbaos markiert das Jahr 1997 einen wichtigen Wendepunkt. Mit Eröffnung des Guggenheim-Museums schüttelte die Stadt mit einem Mal ihr verstaubtes Image ab und erfand sich vollständig neu. Sogar die fein zurechtgemachte Altstadt blühte auf. Cafes, Restaurants und Feinkostläden freuen sich über einen zunehmenden Besucherstrom. Mittlerweile gilt Bilbao sogar als touristisches Zugpferd des Baskenlandes.