Seville's golden Tower#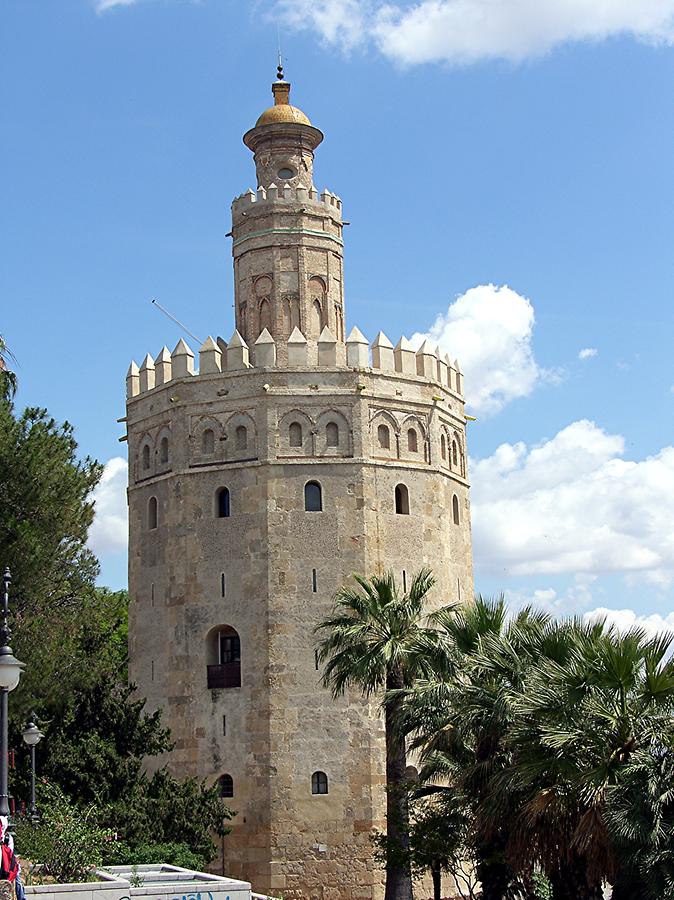 The Torre del Oro (golden tower) is a military watchtower built around 1220. Its name is due (it is believed) to gold-painted tiles (none remain) that glittered in the sun. From the foot of the tower there was a steel rope crossing the river to protect Seville from military boats trying to make it upstream. However, the catilian fleet managed to break through, helping Ferdinand III in 1248 to conquer Seville from the moorish Almohad dynasty. Today the tower houses a naval museum.
Der Torre del Oro (deutsch: Goldturm) ist ein um 1220 gebauter Wachturm. Sein Name kommt vermutlich von einer nicht erhaltenen Kachelverkleiung, die in der Sonne golden glitzerte. Vom Turm aus führte seinerzeit eine eiserne Kette unter Wasser auf die andere Seite des Flusses, um den Hafen von Sevilla gegen stromaufwärts fahrende Kriegsschiffe zu schützen. Der kastilischen Flotte gelang aber der Durchbruch, der Ferdinand III. im Jahre 1248 half, Sevilla von den Mauren (Almohaden) zu erobern. Heute befindet sich im Turm ein Schifffahrtsmuseum.