Cadiz#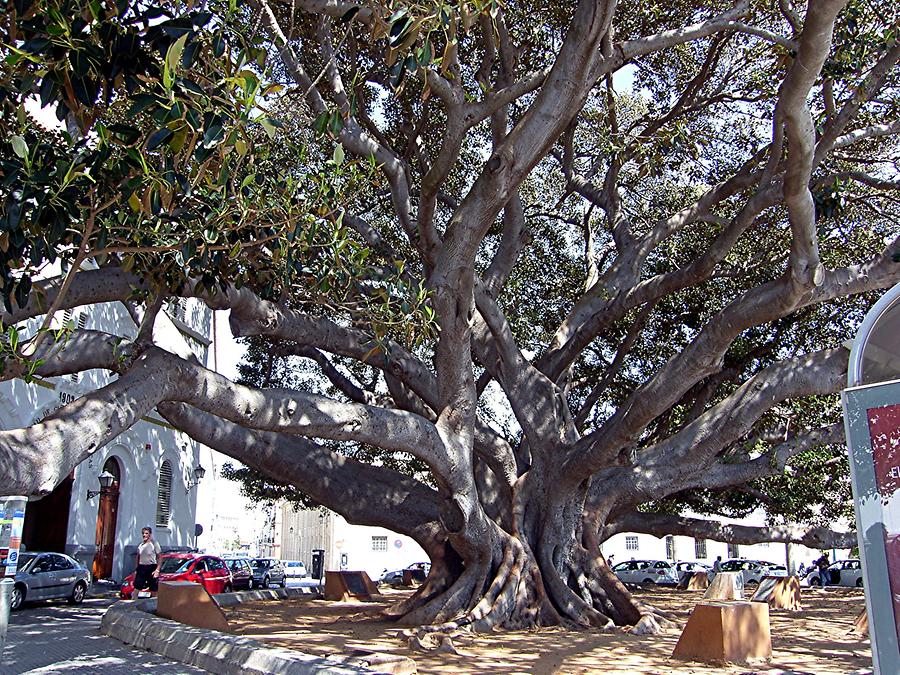 Ficus tree (Ficus benjamina). This tree can grow as high as 30 meters, with gracefully drooping branches and glossy leaves 6–13 cm. In its native range (Asia and Australia), its small fruits are often eaten by birds.
While the Old City's street plan consists of narrow winding alleys connecting large plazas, other parts are is dotted with numerous parks where exotic plants flourish, including giant trees supposedly brought to Spain by Columbus from the New World.
Birkenfeige (Ficus benjamina). Dieser Baum der bis zu 30 Meter hoch werden kann, besitzt anmutig hängende Zweige und bis zu 6-13 cm große glänzende Blätter. In ihrer Heimat (Asien und Australien) werden die kleinen Früchte oft von Vögeln gefressen.
Während die Altstadt aus engen, gewundenen Gassen besteht, die die großen Plätze verbinden, sind andere Stadtteile mit zahlreichen Parks übersät, in denen exotische Pflanzen gedeihen, einschließlich riesiger Bäume, die angeblich von Columbus aus der Neuen Welt nach Spanien gebracht wurden.