Wrocław University of Technology Riverfront#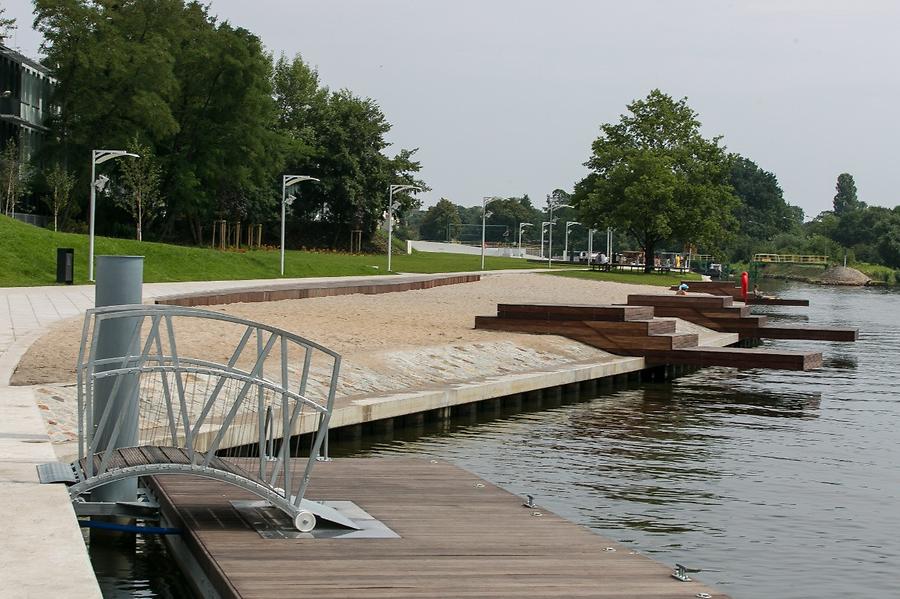 Sporting and recreational terrain along the Oder next to Wybrzeże Wyspiańskiego. The promenade which is to make it easier for citizens of Wrocław and tourists to get close to the river. The riverfront (Bulwar Politechniki Wrocławskiej) has a few hundred metres, it starts next to Polinka cableway and extends itself to the weir. There are volleyball courts, a beach, benches and places to rest on a blanket. The riverbank has devices for both big and small water units. There are places for kayaks and a slip for bigger boats. The whole riverfront is open, but a part of it is closed during at night.
Ein Sport- und Erholungsgelände entlang der Oder - am Wyspiański-Ufer. Die Promenade soll den Einwohnern der Stadt Wrocław sowie den Touristen den Zutritt zum Fluss erleichtern. Der Boulevard ist allgemein zugänglich. Der Boulevard ist einige Hundert Meter lang, beginnt in Höhe der Haltestelle der Polinka und zieht sich bis zum Stauwehr. Auf einem großen Rasen gibt es Volleyball-Spielfelder, einen Strand sowie Plätze, wo man sich auf einer Decken erholen kann, auch Bänke wurden aufgestellt. Das Ufer ist umgeben von Anlagen, die von kleinen und großen Wassersporteinheiten genutzt werden können. Es gibt Anlegeplätze für Kajaks und eine kleine Slipanlage für größere Boote.