Maria and Lech Kaczyńscy Boulevard#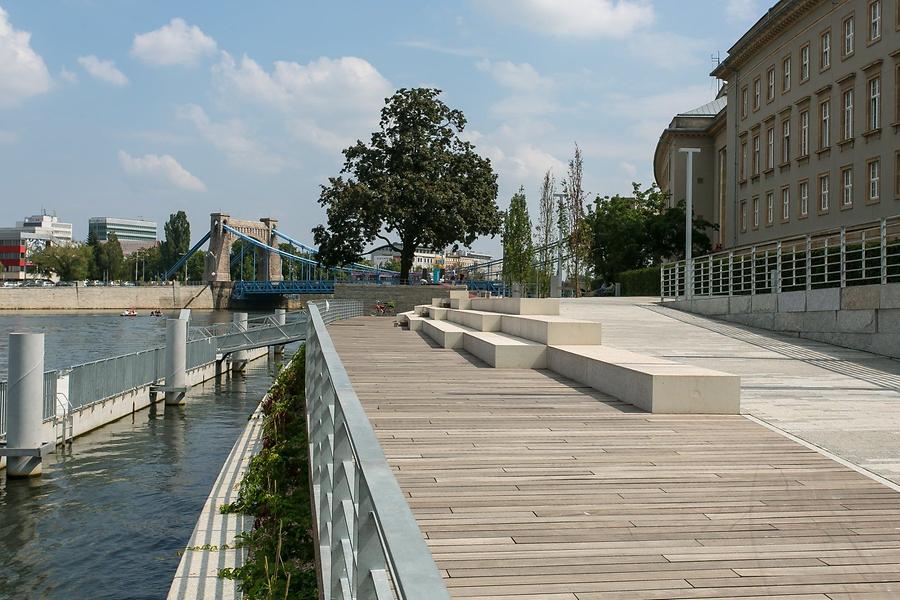 The boulevard is on the left bank of the Oder, between Pokoju Bridge and Grunwaldzki Bridge, behind the building of the Voivodeship Office. Maria and Lech Kaczyńscy Boulevard (Bulwar Marii i Lecha Kaczyńskich) can be accessed by the passage under Pokoju Bridge (Most Pokoju). That way one can go from Piaskowy Bridge (Most Piaskowy) to Grunwaldzki Bridge (Most Grunwaldzki) alongside the river. One of the attractions for children is a 'city pouffe'.
Der Boulevard liegt auf der linken Oderseite, zwischen der Pokój-Brücke und der Grunwald-Brücke, gleich hinter dem Gebäude der Woiwodschaft-Verwaltung. Man kann dank des Durchgangs unter der Pokój-Brücke auf den Kaczyński-Boulevard gelangen. Auf diese Weise kann man von der Piaskowy-Brücke bis zur Grunwald-Brücke entlang der Oder spazieren gehen (oder fahren). Auf dem Boulevard befindet sich u.a. eine Sitzgelegenheit (Puff), die eine der Hauptattraktionen für Kinder an diesem Ort ist.