Jatki (The Shambles)#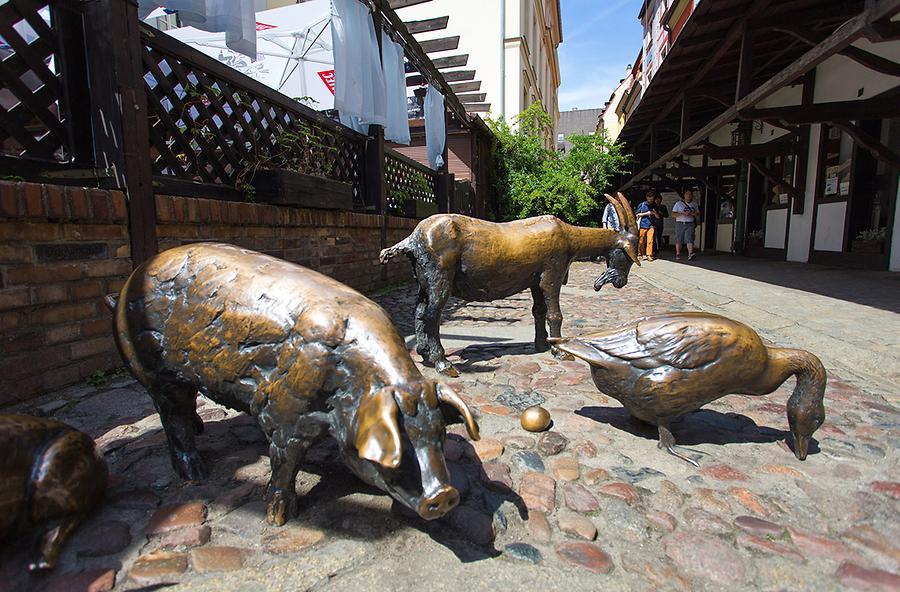 This group of animals is on the tourist map of Wrocław and the statues of a goat, pig, rooster, goose with an egg and a rabbit attract the tourists, who pet them and make photos with them. The intentions of the authors are written on the sign: In honour of Animals for Slaughter - the Consumers. Since the Middle Ages the Shambles were a place for the butcheries and butchers' shops.
Die Schlachttiere dieser bronzenen Gruppe an den Jatki sind die verhätscheltsten Tiere in Wrocław... Die Figurengruppe an den Jatki (Alten Fleischbänken) befindet sich auf der Route der Stadtrundgänge und weckt mit ihren Tierfiguren - eine Ziege, ein Schwein, ein Hahn, eine Gans mit einem Ei und ein Kaninchen - das Interesse der Besucher, die wiederum den Figuren Zärtlichkeiten schenken und sich gerne mit ihnen fotografieren lassen. Die Intention des Autors zeigt das Schild: Zum Gedenken an die Schlachttiere - von den Konsumenten. Seit dem Mittelalter standen hier über Jahrhunderte hinweg Fleischereien und Fleischgeschäfte.