Mdina - Knights of Malta#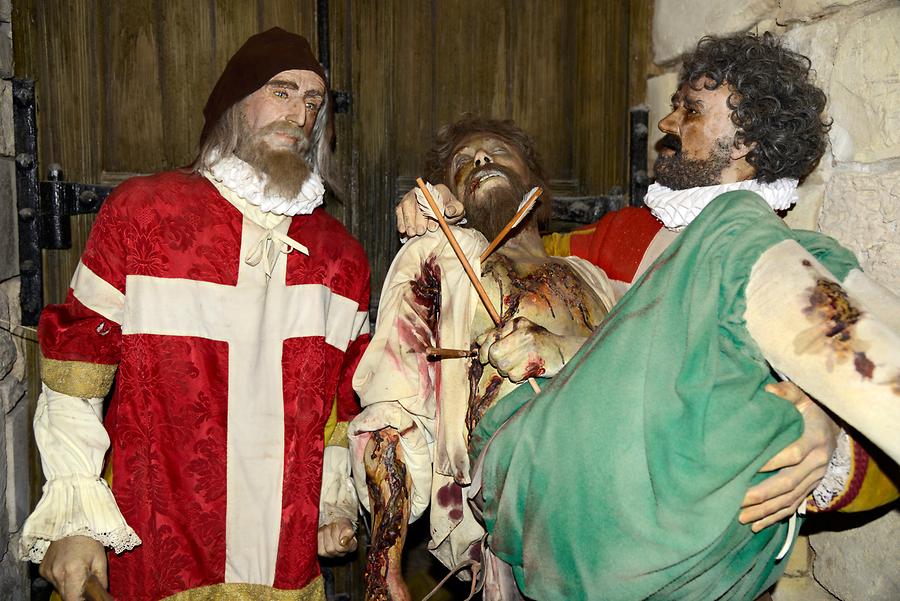 The military order was divided into three classes. At the top stood the knights. To join the order, they had to prove their noble lineage for at least four generations. This made the order the most exclusive aristocratic group of the then Europe. The second class consisted of subordinate priests. The lowest class was formed by the friars, who were employed as servants and foot soldiers. Until today, the Sovereign Council heads the order, so to speak as its government. It has 8 members. A panel extended by clerics and high-ranking knights, the State Council, chooses the Order's supreme power holder, the Grand Master. He holds his office for life. Canonically, he enjoys the status of a cardinal, but can not participate in the conclave. Previously, a candidate could only become Grand Master if he had previously served for at least three years on a galley.
Der Kampforden gliederte sich in drei Klassen. Ganz oben standen die Ritter. Um aufgenommen zu werden, mussten sie ihre adelige Abstammung über mindestens vier Generationen nachweisen. Das machte sie zur exklusivsten Adelsgemeinschaft des damaligen Europas. Die zweite Klasse bestand aus gehorsamspflichtigen Geistlichen. Die unterste Schicht bildeten die Brüder, die als Diener und Fußsoldaten zum Einsatz kamen. An der Spitze des Malteserordens steht bis heute der Souveräne Rat, gleichsam die Ordensregierung. Sie besitzt 8 Mitglieder. Ein um Geistliche und hohe Ritter erweitertes Gremium, der Staatsrat, wählt den obersten Gewaltenträger des Ordens, den Großmeister. Dieser hat sein Amt auf Lebenszeit inne. Kirchenrechtlich genießt er den Status eines Kardinals, darf jedoch nicht am Konklave teilnehmen. Früher konnte ein Bewerber nur Großmeister werden, wenn er vorher mindestens drei Jahre auf einer Galeere gedient hatte.