Vittoriosa - Inquisitor's Palace#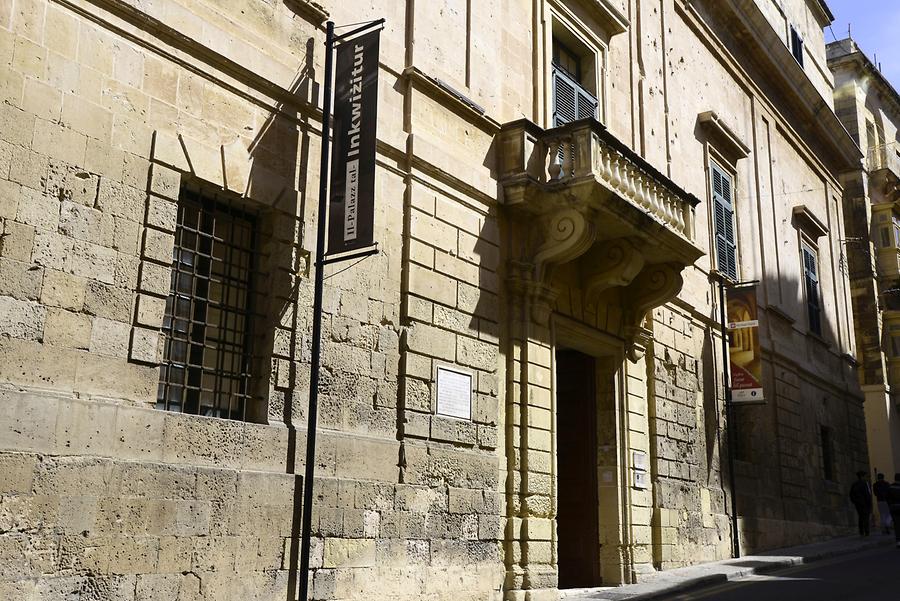 An inconspicuous house on the main street does not let show the terrible scenes that had taken place inside. It belonged to the island's Grand Inquisitor. The Inquisitors were independent judges who were only under the influence of the Pope, and thus had great political influence. The trial usually began with a self-denunciation of the accused person. If the wretch was not willing, he was tortured directly below the courtroom until the wanted confession was given. This plea of guilty requested necessarily the accusation of confidants, a reason why the Inquisition expanded so explosively. Those who were lucky and showed regret got away with comparatively harmless punishments such as fasting, penance, dungeons, obligatory pilgrimages, or carrying cross. But often they were sentenced to the stake. During the time of the Inquisition denunciation flourished, for every local was obliged to report all signs of heresy to the inquisitor within 12 days. Otherwise, they were threatened with being immediately excommunicated. Every form of superstition, magical activities, critical remarks, but also a lack of cooperation with the Inquisition was regarded as heresy. By the way, the Catholic Church never abolished the Inquisition authority, but renamed it. It now operates under the name 'Congregation for the Doctrine of the Faith'.
Einem unscheinbaren Haus an der Hauptstraße sieht man von außen nicht an, welch schreckliche Szenen sich in seinem Inneren abgespielt hatten. Es gehörte dem Großinquisitor der Insel. Die Inquisitoren waren unabhängige Richter, die nur dem Papst unterstanden und damit auch großen politischen Einfluss besaßen. Der Prozess begann üblicherweise mit einer Selbstdenunzierung des Angeklagten. War der Unglückliche nicht willig, wurde er direkt unter dem Gerichtssaal solange gefoltert, bis das gewünschte Geständnis vorlag. Dieses Schuldeingeständnis verlangte zwingend die Bezichtigung von Mitwissern, ein Grund, warum sich die Inquisition so explosionsartig ausbreitete. Wer Glück hatte und sich tief reuig zeigte, kam mit vergleichsweise harmlosen Strafen wie Fasten, Bußen, Kerker, verpflichteten Wallfahrten oder dem Tragen des Büßerkreuzes davon. Oft aber lautete das Urteil: Tod am Scheiterhaufen. Während der Inquisitionszeit blühte das Denunziantentum, denn jeder Einheimische war verpflichtet, alle Anzeichen von Ketzerei binnen 12 Tagen an den Inquisitor zu melden. Ansonsten drohte die sofortige Exkommunizierung. Als Ketzerei galt jede Form von Aberglauben, magische Aktivitäten, kritische Äußerungen aber auch mangelnde Zusammenarbeit mit der Inquisition. Übrigens: Die katholische Kirche hat die Inquisitionsbehörde niemals abgeschafft sondern nur umbenannt. Sie agiert heute unter dem Namen 'Glaubenskongregation'.