Saint John's Co-Cathedral#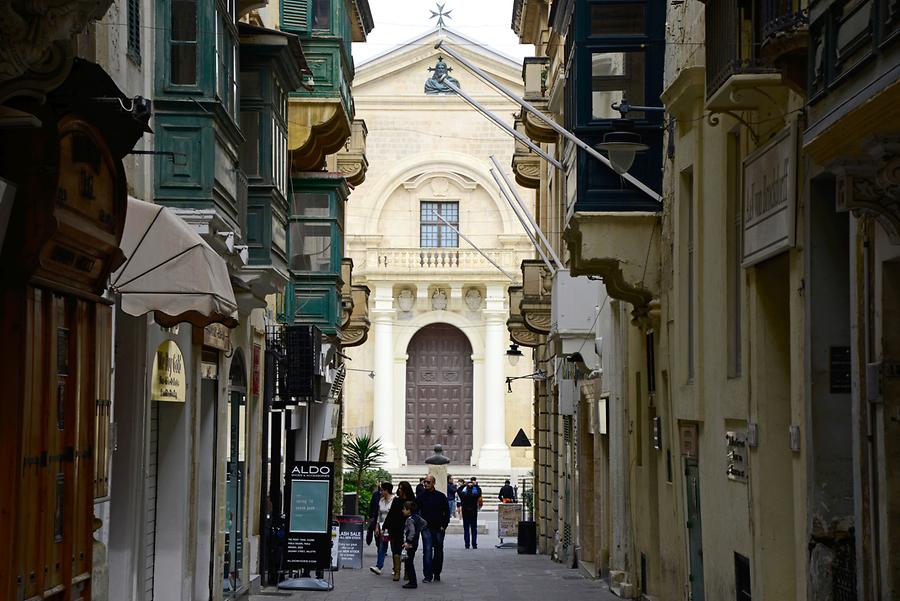 Since 1577 the St. John's Co-Cathedral, the conventual church of the knights, watches over the city. It received the particular title of a co-cathedral because the original episcopal church was in Mdina. Because of strategic considerations it has no dome: The knights wanted to ensure an unimpeded line of fire for their guns. The simple appearance makes it difficult to imagine the baroque splendour of its interior. The masterpiece of marble and gold was financed by piracy. The galleys of the Order obviously made a big haul in their hunt for Muslim merchant ships. The nave of the church is flanked by 14 splendid chapels. Architect Girolamo Cassar had not actually planned it that way. But the 58 m long barrel vault proved to be too heavy for the walls and therefore had to be strengthened by transverse walls. Reportedly, its master builder called it an 'oversized horse stallion'.
Seit 1577 wacht die St. John´s Co-Kathedrale, die Ordenskirche der Ritter, über die Stadt. Den ungewöhnlichen Titel einer Co-Kathedrale erhielt sie, weil die ursprüngliche erzbischöfliche Kirche in Mdina stand. Warum sie keine Kuppel trägt, hängt mit strategischen Überlegungen zusammen. Die Ritter wollten eine ungestörte Schusslinie ihrer Kanonen sicherstellen. Die einfache Formensprache lässt kaum vermuten, welch barocke Pracht sich im Inneren auftut. Finanziert wurde das Meisterwerk aus Marmor und Gold durch Piraterie. Die Galeeren des Ordens machten bei ihrer Jagd auf muslimische Handelsschiffe offensichtlich sehr reiche Beute. Das Hauptschiff der Kirche wird von 14 prachtvollen Kapellen flankiert. So hatte es Architekt Girolamo Cassar eigentlich gar nicht geplant. Doch das 58 m lange Tonnengewölbe erwies sich als zu schwer für die Mauern und musste deshalb durch Querwände abgestützt werden. Selbstironisch soll der Baumeister sein Werk als 'überdimensionalen Pferdestall' bezeichnet haben.