Grandmaster's Palace - Armoury#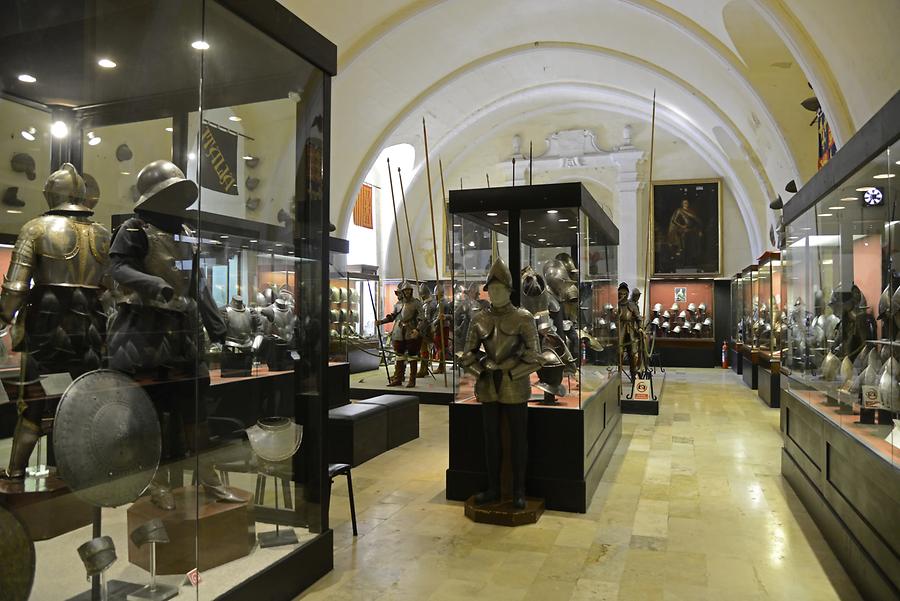 The publicly accessible parts of the complex show the extensive collection of arms of the chevaliers. It was big enough to equip 60,000 men. Probably no other institution in history is so much exemplary for the religious war between Christians and Muslims as the Maltese Order of chivalry. Since the Crusades, an irreconcilable religious war has been carried out in the Mediterranean over many centuries - recently against the Turkish Ottomans. The Maltese always belonged to the spearhead of this inglorious, holy war.
Die öffentlich zugänglichen Teile der Anlage zeigen die umfangreiche Waffensammlung der Ordensritter. Sie reichte, um 60.000 Mann auszurüsten. Wohl kaum eine andere Institution der Geschichte steht so exemplarisch für einen Glaubenskrieg zwischen Christen und Muslimen wie der Kampforden der Malteser. Seit den Kreuzzügen wurde im Mittelmeer über viele Jahrhunderte ein unversöhnlicher Religionskrieg ausgetragen – zuletzt gegen die türkischen Osmanen. Die Malteser gehörten immer zur Speerspitze dieses unrühmlichen, heiligen Krieges.