Vergina Philipps Grave#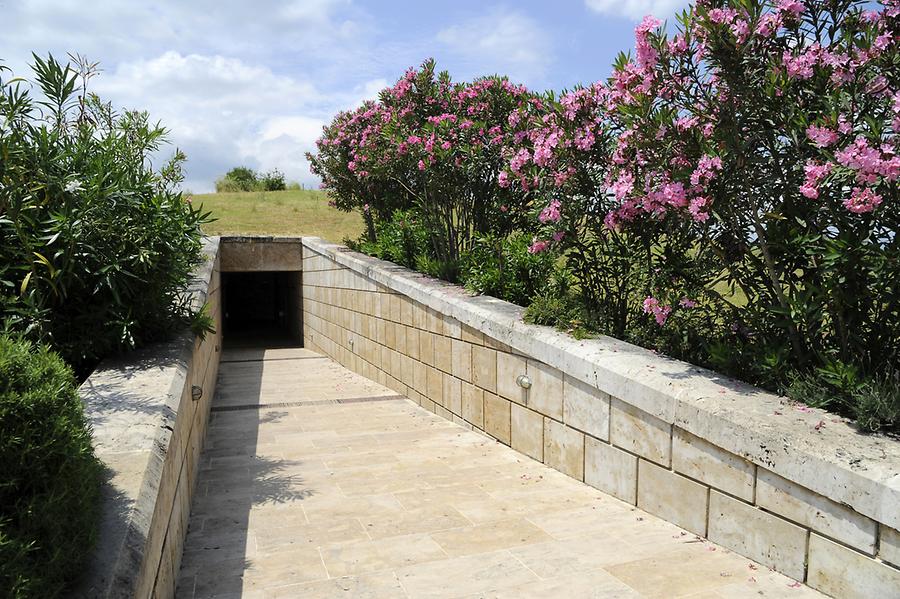 The archeologists discovered three burial chambers below a 20 m high and 110 m long hill. Here the found the bones of the king in a golden crate weighing 11 kilos!
The whole burial setting was like in a temple. The entrance was decorated with hunting scenes. Further behind was the grave full of precious goods.
All kings of Macedon were supposed to buried here in the old capital Vergina following a verdict of the oracle of Delphi, or the dynasty would die out. This is what indeed did happen: The son of Philip II of Macedon, Alexander the Great, was buried in Alexandria, and the empire collapsed.
Unter einem 20 m hohen und 110 m durchmessenden Grabhügel fanden die Forscher drei Grabkammern. In einer davon lagen die Gebeine des Königs im einem 11 kg schweren Schrein aus purem Gold. Die gesamte Anlage war wie ein Tempel gestaltet. An der Vorderfront schmücken Jagdszenen die Fassade. Dahinter lag das Grab, vollgestopft mit wertvollen Beigaben. Alle makedonischen Könige sollten – nach einem delphischen Orakelspruch - in der alten Hauptstadt Vergina ihre letzte Ruhestätte finden und wenn ein König nicht in Vergina begraben werde, so würde die Dynastie untergehen. So geschah es auch: Philipps Sohn Alexander wurde im ägyptischen Alexandria beigesetzt und sein Reich zerfiel.