Fulda - Petersberg; 'Liobakirche'#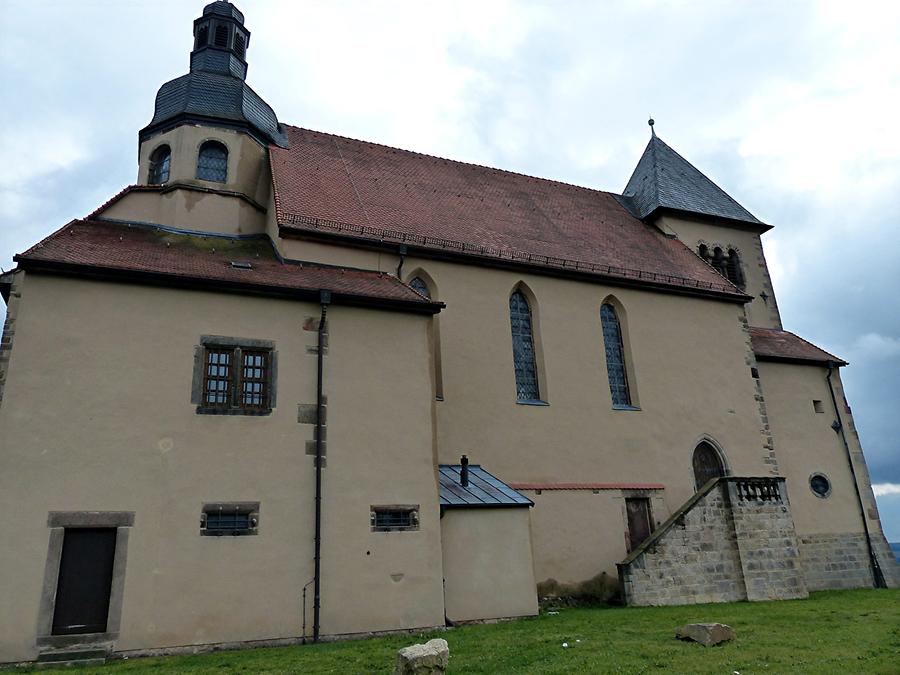 The Church of St. Peter in Petersberg, built by Archbishop Rabanus Maurus, is a medieval mountain church from the 9th century and it was consecrated to Saint Peter around 836. Its vaults are one of the oldest above-ground church buildings and their mural paintings among the oldest ones in Germany. The name of the saint Leoba (Lioba of Tauberbischofsheim) probably originates from the Old High German and means 'the love-giving'. She was a missionary and Benedictine nun and a relative of St. Bonifatius.
Die Kirche St. Peter, erbaut vom Abt Rabanus Maurus, ist eine mittelalterliche Bergkirche aus dem 9. Jahrhundert in Petersberg und wurde um 836 dem Heiligen Petrus geweiht. Ihre Gewölbe gehören zu den ältesten oberirdischen Kirchenbauten und ihre Wandmalereien zu den ältesten erhaltenen Wandmalereien Deutschlands. Der Name der Heiligen Lioba (Lioba von Tauberbischofsheim) stammt wohl aus dem Althochdeutschen und bedeutet 'die Liebe Gebende'. Sie war Missionarin und Benediktinerin und eine Verwandte des hl. Bonifatius.