Courchevel, Méribel and Val Thorens ski resorts#
Photos by Dmitry Moiseenko and Oleg Gaponyuk members of the AirPano Team that is a member of the global-geography Consortium.

20 March 2019
with kind permission of AirPano
There are thousands of ski resorts in the world, but Courchevel in the French Alps is one of the most famous of them. Many millionaires and celebrities from all over the world come here for recreational and leisure purposes, so this place has become the symbol of luxury. In 1992, the Courchevel valley took some competitions of the XVI Winter Olympic Games.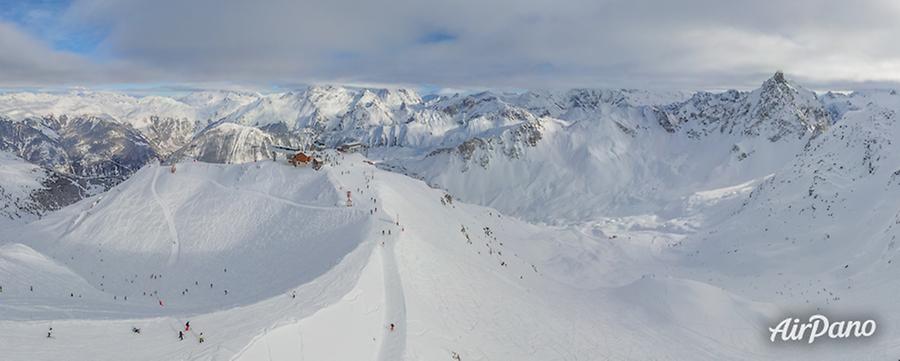 This place has a rather unusual history: comparing to other ski resorts based around existing mountain villages, Courchevel was built almost from scratch. At the end of 1930ies, the Tourism Committee of France was looking for the place to create a "super-resort" in order to compete with Switzerland. It was supposed to be a territory with a 1,400-1,800 meters altitude drop that could be accessible for transport and suitable for the creation of a lift system.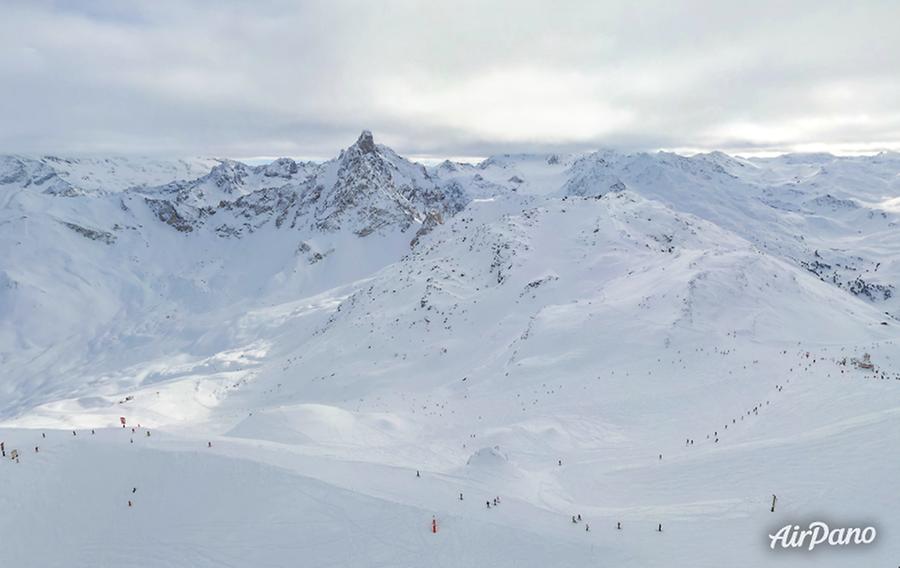 The area of the modern resort located in Les Trois Vallées (The Three Valleys) in Savoie département ideally suited the identified purposes, but the realization was prevented by World War II. The first ski lift started operating in 1946. At the same time, chalets were under construction, and the architects faced a challenge: the Bauhaus architecture school was dominating at that time in Europe. Its tendency to strict geometrical forms with no-frills could spoil the appearance of the resort.

So the architects were brave enough to go against the tendencies and create the buildings that suit the landscape and exist in harmony with the surrounding nature. The fronts of the chalets face the sun, have huge windows and some of the houses stand on 5-meters high pillars. These ideas were warmly greeted by people and it served a good advertisement for the resort.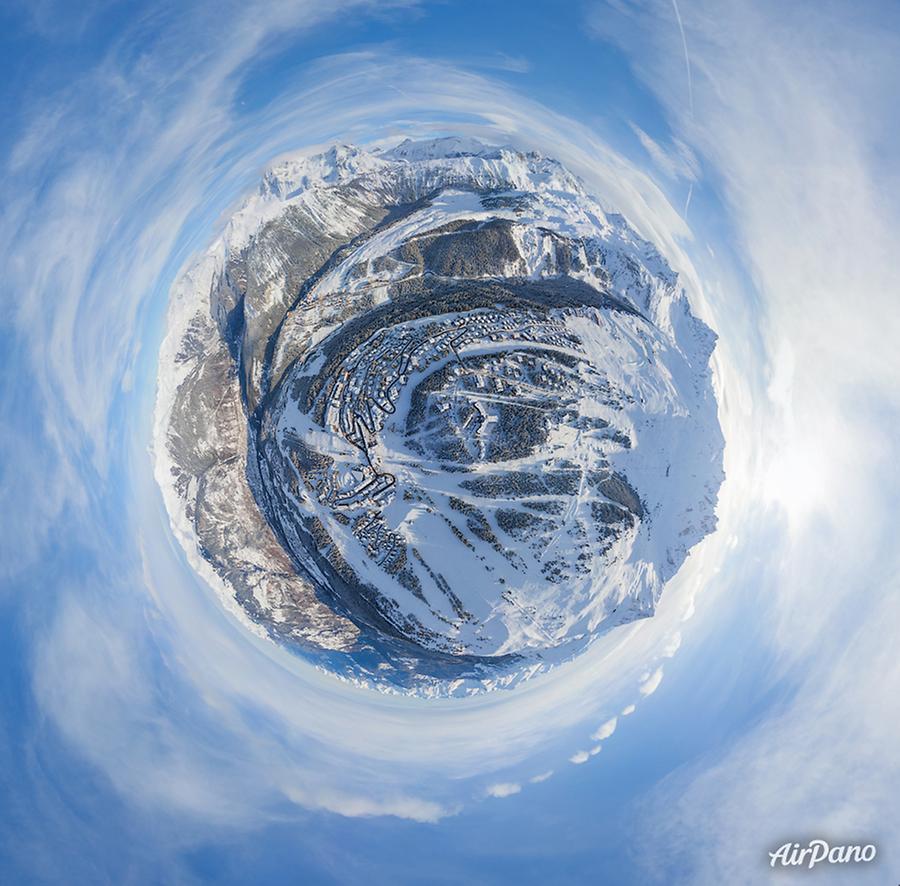 The ski season in Courchevel lasts from the end of November till the beginning of May. Nowadays hundreds of hotels are functioning here, while the ski facilities have stretched at four stations: Courchevel 1300 (Le Praz), Courchevel 1550, Courchevel 1650 (Moriond) and Courchevel 1850. The last name is a little bit confusing: in fact, this complex stands at 1,747 meters high, but the administration has decided to round up the figure in order not to cede the neighbouring resort of Val-d'Isère.

The other villages of Les Trois Vallées, in their turn, were inspired by the success of Courchevel, started developing as ski destinations and eventually merging their ski slopes (the first one to do it was Méribel in the 1950ies). And now, Les Trois Vallées is the largest ski area in the world with more than 600 km of ski slopes and 8 resorts. Therefore, we are inviting you to get acquainted with very popular Courchevel, cozy Méribel and the highest resort in Europe — Val Thorens.


12 panoramas of Courchevel, Méribel and Val Thorens ski resorts