Dubrovnik Viewed from Above#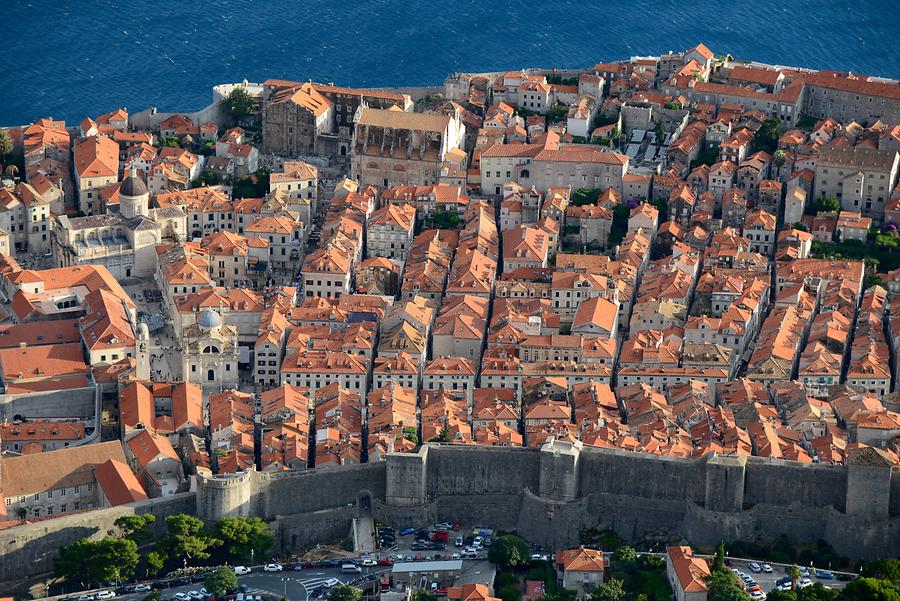 Dubrovnik ist eine Stadt aus Stein. Holzhäuser wurden schon im Mittelalter aufgrund der Brandgefahr verboten. Auch in anderen Bereichen galten strenge Bauauflagen: Gassenbreite, Geschosshöhe, Dachschräge und Fenstergröße waren normiert, Balkone nicht erlaubt. Auch Kanalbenutzung, Toiletten und Abfallentsorgung unterlagen strengen Regelungen. Städtische Straßenreiniger gehören seit Jahrhunderten zum Bild der Stadt. So entwickelte sich Dubrovnik zum ästhetischen Gesamtkunstwerk. Der bis heute von mächtigen Mauern umgebene und von modernen Einflüssen unberührte Architekturkern stammt aus der Zeit nach dem großen Erdbeben von 1667.
Dubrovnik is a city of stone. Wooden houses were banned in the Middle Ages due to the fire hazard. Strict building regulations were also applied in other sections: the lane width, storey height, roof pitch and window size were standardized, balconies were not allowed. Also usage of sewer, toilets and waste disposal were subject to strict regulations. Urban street cleaners have been part of the city for centuries. Thus, Dubrovnik developed into an aesthetic artistic synthesis. Surrounded by mighty walls and untouched by modern influences, the architectural heart dates back to the period after the great earthquake of 1667.