The House of Spite#
By H. Maurer, 2014
(Many people of Sarajevo tell this with a good measure of pride!)
After the Austrian - Hungarian monarchy occupied Bosnia and Herzegovina, they have began to build various buildings. The Post Office, the National Museum, the Faculty of Law and different residential houses, and others. But when they tried to build the City Hall (that turned in the long run into one of the most impressive buildings) they experienced Bosnian stubbornness.
They wanted to build the Town Hall at the right side of the river Miljacka, an enormous building never seen before in Sarajevo which would show the power of ruling monarchy. They tried to purchase all properties necessary. But in the location was also the property of an old man called Benderija, resident citizen of Sarajevo who did not want to allow them to demolish his house and take his land away from him for any reason.
The house povided him internal peace and he didn't want to give it away. After long negotiations, Austria-Hungarian officials offered more and more money. The stubborn man finally said that he would give up his property only if they give him a bag of golden coins and if they move his house brick by brick to the other side of the river.
They had no choice but to do exactly what he had requested for in 1895. Since then, Benderija's house is called "Inat kuća" (the spite house) and in 1997 it turned into a lovely traditional Bosnian restaurant. The house is still there defying all governments and symbolizing the stubbornness of Bosnian men.
From the restaurant there is a good view of City Hall: It was destroyed during the
siege
but beautifully rebuilt.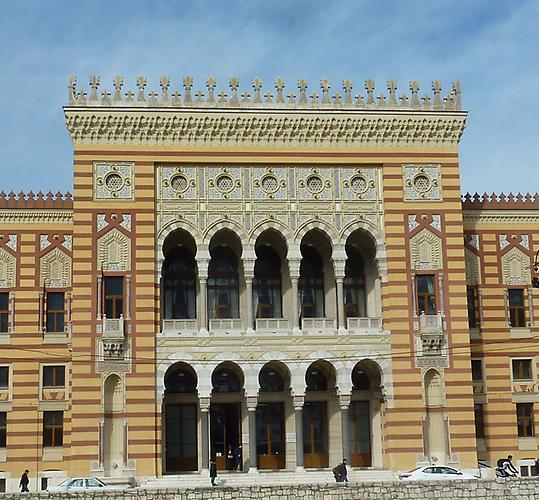 ---
Excellent restaurant!
Try the Bosnian speciality plate (various vegetables stuffed with a meat/rice filling much like the Greek stuffed peppers and tomatoes, but a much bigger selection) and enjoy a glass of local beer (brewed in a factory also built by the Austro-Hungarian monarchy)
-- Herz Walter, Freitag, 20. Februar 2015, 15:34